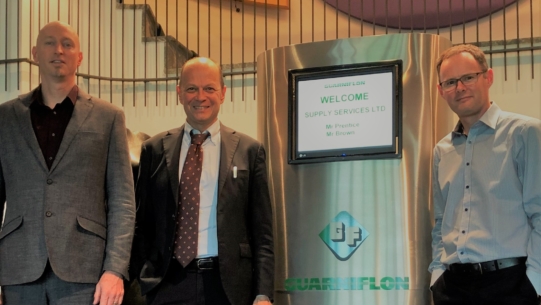 Italy Trip – A Visit to Our PTFE Supplier
Recently our Managing Director, Baden Prentice and Technical Manager of Performance Plastics, Mark Brown visited our premium PTFE supplier Guarniflon in Italy.
Pictured with them is Guarniflon's Marketing and International Sales Manager, Gualtiero Colleoni.
Guarniflon specialises in the production of quality finished and semi-finished PTFE products and is one of the leading worldwide PTFE manufacturers.
Currently they manufacture some 2,916 different blends of PTFE all with specific applications in mind.
Every step of the production process is critical from raw material selection, filler size, quantity, pressing pressure and sintering cycles all play a key role in getting a high quality PTFE to suit the application.
The team got to see production and also quality assurance and testing in the lab.
The below photo is of skived PTFE billet specimens ready to go into the lab for testing.