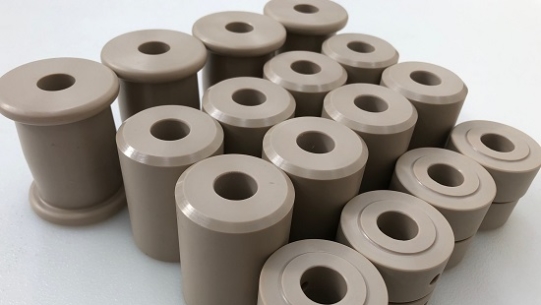 Time to move up to the high performance plastics range?
Are your current engineering plastics coping with the heat and pressure?
Is it time to move up to our high performance range?
The success of high performance plastics is based on a combination of material benefits which are brought to bear even at high temperatures.
These include, in particular, good mechanical properties supported by extreme chemical resistance.
Long-term services temperatures of 260ºC, and for polyimides this is significantly higher.
Other benefits include radiation resistance, excellent fire resistance and good electrical properties.
By using special additives, thermal dimensional stability and rigidity can be enhanced, tribology improved, or electrical conductivity adjusted.
High performance plastics are used wherever standard or engineering plastics reach their technical limits or where weight reduction is required for finished components.
Read how we helped one of our customers with our Ensinger TECAPEEK high performance plastic.
The problem…
For this particular application our customers' demands on their plastics had increased over time.
Their current engineering plastics was wearing faster than they wanted as the components were now working at over 100°C in wet environments with higher loads.
The solution…
High performance TECAPEEK (chemically known as polyetheretherketone or PEEK) was now the material of choice, with a working temperature range of -50°C to +260°C.
Excellent steam resistance and high mechanical strength even at elevated temperatures.
PEEK will cope with the increase in demand and be able to deliver the long service life this customer requires.
The below picture shows CNC machined components made from TECAPEEK.
Supply Services Limited has nationwide design and CNC machining services, possibly the largest stock holding of high performance plastics in New Zealand.
What is PEEK?
PEEK with a full chemical name of Polyetheretherketone comes from the polyaryletherketone (PAEK) family.
PEEK polymers were originally discovered back in the 1960's at the university of Surrey in the UK.
PEEK polymers were particularly difficult to dissolve due to their crystalline structure and so were not further developed until the early – mid 1970's.
The polymer problem was solved by Imperial Chemical Industries in 1982 and "Victrex PEEK" was born.
PEEK can be produced by means of extruding, compression moulding, injection moulding and spin casting making it highly adaptable to many applications.
PEEK is available with many different fillers and blends including PTFE, glass fibre, carbon fibre, graphite and metal detectable fillers.
With fantastic chemical resistance, hydrolysis and superheated steam resistance, high mechanical strength even at elevated temperatures, excellent wear and excellent dimensional stability PEEK is commonly used in the chemical industry, food production, medical, aerospace, automotive, electronics and semiconductor industries.
PEEK has a temperature range of -50°C to +260°C making it ideal for high temperature applications, bushes, clips, lugs, rollers, gears and cams.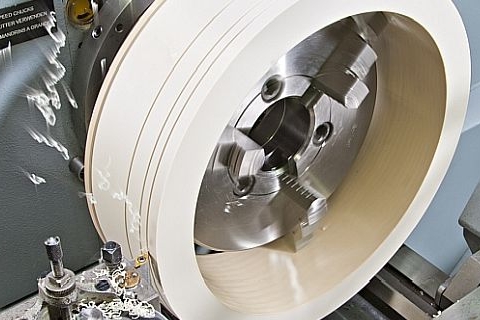 Properties and characteristics of PEEK
High heat resistance and heat stability
PEEK is one of the best heat-resistant materials among high performance plastics.
Even when used at 260°C for 5000 hours, the strength is almost the same as in the initial state and excellent in thermal stability.
PEEK has a long lifetime in the harshest environments.
Material with excellent creep and fatigue resistance
PEEK has some of the best mechanical strength characteristics available.
PEEK is also resistant to bending and, compressive stress, so it can also be used in situations where stability is required.
In addition to standard PEEK, the following modified high-strength grades are available.
Outstanding chemical resistance
PEEK exhibits excellent resistance to various organic solvents, oils, weak acids and alkalis, and can maintain strength over a wide temperature range and concentration. It has proven to be a polymer that is difficult to discolour, expand or break.
Superior wear resistance and sliding properties
Unfilled PEEK natural is the most balanced material in high temperature environments, where non-lubricated sliding and non-contamination is required.
Still, many applications call for special PEEK bearing grades such as TECAPEEK PVX black, containing a multiple filler system (graphite, carbon fiber and PTFE), to fulfil a combination of requirements.
Very good dimensional stability
PEEK is used where high precision parts are required. One of the main reasons is that PEEK exhibits excellent dimensional stability.
Resistant to seawater and steam, and does not hydrolyze even in high temperature and high humidity environments.
PEEK can withstand more than 1500 steam sterilization (autoclave) cycles at 134°C.
In the industrial field, it is often used for valve parts due to the advantage of its superior water resistance.
Compliant to many industries
Supports more than 10 different standards.
PEEK materials can comply to many standards and are used in various industries.
Food: FDA, (EC) No. 1935/2004, (EU) No. 10/2011, China food contact regulation
Medical: ISO 10993, USP Class VI
Aerospace: FAR 25.853, MIL-P-46183
Oil and Gas: ISO 23936-1, NORSOK M-71OC
Looking for custom sizes of PEEK tube?
If you are after custom sizes of PEEK tube, have a look at the Ensinger PEEK Tube Selector.
This covers PEEK natural, carbon fibre filled, glass filled and bearing grade PVX.
Getting tube close to your finished sizes will reduce both wastage and purchasing costs.
Download our plastics brochure
It covers our entire range of standard, engineering and high performance plastics.
We additionally offer a wide selection of industrial composite materials and commodity materials.