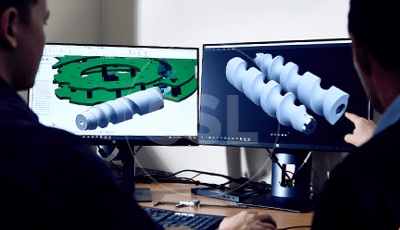 We can manipulate your CAD models and drawings or create them for you from your parts or sketches. If required, we can design your parts from scratch. Our CAD design engineers are able to design complex parts and assemblies from our range of engineering materials that are in use across all industry sectors. We even design sprockets and bottling line change parts.
Computer Aided Design (CAD) refers to computers and software used to assist the design process. It's possible to build an entire assembly or part in software before even sending it out to production.
This allows our engineering teams to design, refine and manufacture your precise parts, repeatedly.
What do we commonly use CAD for?
A lot of customers want drawings made, or drawings altered, or they want machined finished parts manufactured. We use our 2D and 3D CAD expertise to alter or design the finished components.
CAD allow us to visualise the parts prior to production and mitigate any issues. As the drawing is close to real life we get an accurate representation of the parts.
Manufacturing time is expensive. CAD allows us to optimise the part and machining processes. We can simulate machining and alter accordingly to best practice.
We use Solidworks and other drawing technologies to:
Design engineering components including plastic components, sprockets and chain attachments etc.
Create drawings of machined components
Create drawings of assemblies with all parts listed and itemised
Complete a bill of materials for the work
Reverse engineer components
No matter where you are in NZ, we have the people and the know-how to help you out.
---
Whatever you're
engineering, we can help
Our technical solutions specialists are only a phone call away