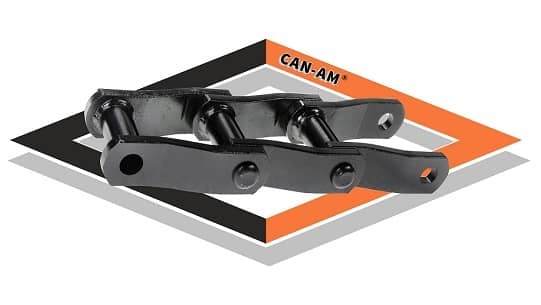 Choosing CAN-AM Chains for Performance and Endurance
New Zealand has a strong wood processing sector that includes pulp and paper, sawmilling MDF, and OSB and plywood mills, with products exported around the world. Those in the industry all know the name CAN-AM Chains. CAN-AM Chains is North Americas leading chain manufacturer, known for developing unbeatable chains over the last 65 years.
Customer satisfaction is of the utmost importance and achieving this is what drives them to create a well-designed innovative product leaps and bounds ahead of all their competitors. They lead the way in the development of high-performance chains, with a proven track record of reliability within New Zealand.
Made for the Harshest of Conditions
Manufactured for the Canadian sawmilling and wood processing sectors, CAN-AM Chains are built to withstand the harshest of conditions, including heavy snowfall, ice, and freezing temperatures. These conditions are similar to what is seen in the South Island over the colder months, so you can be sure that CAN-AM Chains will be able to handle any of the conditions NZ throws at them.
CAN-AM Chains are built specifically to perform in high impact environments, which the wood processing industry definitely is. The last thing a fast-paced industry wants is downtime due to broken equipment, and with CAN-AM Chains you can be sure to minimise these issues.
CAN-AM supplies products for use across the entire industry, with a focus on American Standard and British Standard roller chains and welded steel chains. These performance products are manufactured in Vancouver and Portland, and include every type of chain; mill chains, drag chains, malleable chains, sharp chains, and trim line chains, plus a range of quality sprockets, attachments, and accessories to suit the wood processing industry.
All chains, sprockets, and accessories are designed and constructed to perform faultlessly in all rugged chain conveyor applications such as log-decks, transfer decks, un-scramblers, and drive applications of all types.
Unmatched Capabilities
CAN-AM Chains are made to provide solutions to common issues found in the wood processing industry like product shock loading, wearability, fatigue, and corrosion. CAN-AM Chains have been put to the test in areas of heavy impact loading, high-speed requirements, capacity loading, and other abrasive conditions, and without fail they always excel, despite severe application conditions.
Extended Service Intervals & Lower Maintenance Costs
CAN-AM Chains are all manufactured in house, using a special steel metallurgy that produces tough products which can be treated with specific heat treatments and induction hardening specialities to extend the life of their products, such as: heat treated sidebars, barrels or rivets, additional induction hardening of through heat treated parts, carborised barrels, normalised sidebars and barrels, zinc, or hard chrome plating, to name just a few.
The quality of the steel they use with these added treatments can dramatically extend the working life of a wood processing chain and achieve the lowest life cycle cost.
CAN-AM also ensures that any customers are aware of all valuable information such as heat treatment specifications, welding procedures, lubrication and recommended break-in periods for their chains and sprockets, so they know how to care for the products and enhance the service life of each chain.
Where Can You Find them in New Zealand?
CAN-AM Chains are the best option when it comes to performance chains, sprockets, and value-added products, and there is only one place you can find them in New Zealand: Supply Services Limited, NZ's the biggest conveyor chain supplier and offer distribution of CAN-AM Chains made-to-order by specification, or custom/bespoke.
Supply Services in house specialists regularly travel to the CAN-AM HQ in Canada for training and product upskilling, and they have regular stock shipments of CAN-AM Chains in their three branches locations around the country. For more information on their CAN-AM products, reach out to them for a detailed product list.