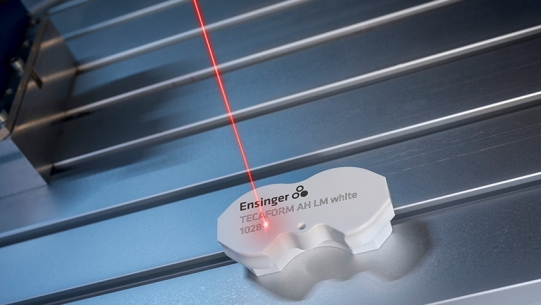 In the food-processing and pharmaceutical industries, the labelling of machine components with the aid of UV marking lasers is, in many places, standard practice.
The plastics processor Ensinger has now expanded its portfolio to include a stock shape that can be labelled with a laser.
The new product TECAFORM AH LM, a modified polyacetal copolymer (POM-C), permits particularly high-contrast laser markings on technical components and fulfils the stringent regulatory requirements of the food and pharmaceuticals sector (FDA, EU 10/2011).
Marking lasers are among the most reliable labelling systems. Laser labelling is permanent, fraud-proof and clearly legible. Unlike engraved surfaces, laser-marked parts are easy to clean, and in contrast to ink markings which can wear out over the product's life cycle, there is also no contamination risk to foodstuffs or pharmaceutical products.
Available in white and grey
The material POM-C natural, which is widely used in industry, cannot be labelled using UV marking lasers, and therefore Ensinger has developed a compound with a special additive.
Customised data such as text, numbers, graphics and codes facilitating traceability can be applied to the light-coloured material, available in the colours "white" and "grey", using serial production processes.
Thanks to the high contrast, product markings using small fonts less than 1 mm high are also possible.
The mechanical characteristics and processing properties of the extruded products TECAFORM AH LM white and TECAFORM AH LM grey are similar to those of the well-known stock shape TECAFORM AH natural.
The new, laser-markable material TECAFORM AH LM white is available from stock at short notice in the form of sheets (dimensions 620 x 3000 mm, thickness 20, 40 and 60 mm) and rods (length 3 m, diameter 40 and 60 mm).