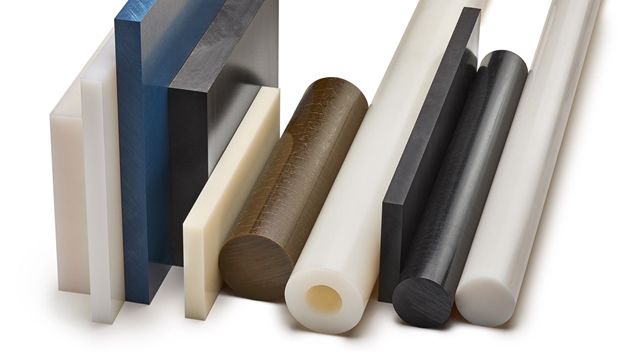 Food Safe Plastic and Materials
Technical, high-performance plastics for the food and beverage industries play a vital role in improving efficiency, safety, and competitive standing. Lightweight, versatile plastics have a proven track record over decades of use in the processing and packaging of foods. Their success is a combination of benefits, primarily good mechanical properties, service temperatures, and high resistance to chemicals.
Food grade plastic is widely used in New Zealand in plant and machinery for meat, fish and poultry processing, dairy produce, baked goods, and confectionery production.
Commonly made parts include gears, bearing bushes, scrapers, conveyor, and timing screws, dies, filler nozzles, baskets and housings, chain guides and cutting disks to name a few. The application possibilities for technical plastics are only limited to your imagination.
Plastics in Application: Food
Dairy technology
In the manufacture of cheese and dairy products, technical plastics are used in several different process steps, including separating the whey and portioning, as well as transportation and cutting. Detergents put high demands on plastics in terms of chemical resistance. TECAPEEK TF10 blue fulfils these requirements and offers in addition high strength as well as excellent slide friction properties even at high temperatures. Furthermore, it is optically detectable due to its blue colour which leads to an increased process safety in foreign body control.
Meat, fish, and poultry processing
Before a ham or salami sausage lies finish packaged on the supermarket shelf, the product has already undergone many processing steps. One such example is the manufacture of an everyday hamburger. The minced meat patties are portioned and shaped by special machines. To guarantee cleanliness and hygiene, machines and other equipment are regularly cleaned.
The material used in these machines, TECAFORM AH (POM-C) developed by Ensinger offers excellent chemical resistance. The mechanical material properties are brought to bear particularly at very high levels of production capacity utilisation. Thanks to TECAFORM AH (POM-C), costs for maintenance and replacement are reduced to a minimum.
Plastics from Ensinger are also busy at work inside machines for meat, fish, or poultry processing. The excellent abrasion behaviour, high strength, and hardness of plastics such as TECAFORM AH (POM-C) make them ideally suited as machine components for minimal downtime and enhanced productivity.
Where extremely high temperatures occur during production for process or machine-related reasons, the material TECAPEEK (PEEK) offers an ideal solution. It maintains its excellent properties even under the toughest of environmental conditions and can be exposed for brief periods to temperatures of up to 300°C. TECAPEEK (PEEK), TECAFORM AH (POM-C) all conform to food regulations and comply with the latest statutory requirements.
Bakery technology
Dough manufacture is one of the key process stages in the manufacture of baked goods. After mixing and stirring the ingredients, the dough is rolled out and shaped using rolling machines and presses. Excess strain on components can result in pieces breaking off into the dough. This is the reason why many food producers use metal detectors.
To avoid additional test procedures and added costs, Ensinger has developed a product range with inductively detectable plastics. As the existing metal detectors are also suitable for tracing these new ID plastics, the safety of food processing operations can be enhanced without requiring any investment in new equipment.
TECAFORM AH ID (POM-C) is suitable for applications requiring good sliding properties (minimal adhesion). In humid atmospheres or where there is direct contact with fluid, this material with its low water absorption properties offers an ideal alternative.
Ensinger also has a solution for manufacturing processes involving very high temperatures. The tried and tested high-performance plastic TECAPEEK (PEEK) also comes in an inductively detectable version: TECAPEEK ID blue (PEEK). This material combines good chemical resistance with excellent mechanical properties which are retained at high temperature levels. And in the unlikely event that a plastic part should ever break off, ID material splinters will be picked up by the detector.
A wide selection of material components can already be replaced by ID plastics in the manufacture of food products. The lower weight of these materials makes a decisive contribution to energy and cost savings. This represents another major step on the road to the sustainable production methods modern consumers expect.
There are areas in which testing for foreign bodies takes place by visual inspection. For this requirement, the following plastics can be supplied in a blue coloured version:
TECAFORM AH (POM-C)
TECAMID 6 (PA)
TECASON P (PPSU)
TECAPEEK (PEEK)
The coloured plastics conform with food regulations and comply with currently valid legislation.
Food conveying
Conveying systems are used to transport products from one machine to the next between the individual manufacturing steps. Where chain systems are used, the rollers must demonstrate good sliding properties and be highly resistant to wear. TECAMID 6 (PA 6) from Ensinger complies perfectly with these requirements. Conveying systems exist in which products are deep fried at 140-190°C. Where this type of temperature and grease resistance is called for, TECAPEEK (PEEK) is the material of choice.
Food packaging
At the end of the production chain, products are automatically filled and packaged. Technical plastics also have a role to play in this last process step prior to dispatch. For applications such as worm conveyors, star conveyors or sliding rails, Ensinger offers a whole range of plastics with excellent sliding properties.
The material TECAGLIDE green (PA 6 C), which has been modified with a special solid lubricant, not only offers a low slide-friction co-efficient, but also the necessary mechanical strength. With a low specific weight compared to metal, TECAGLIDE green helps reduce the energy input required to operate the conveyor system.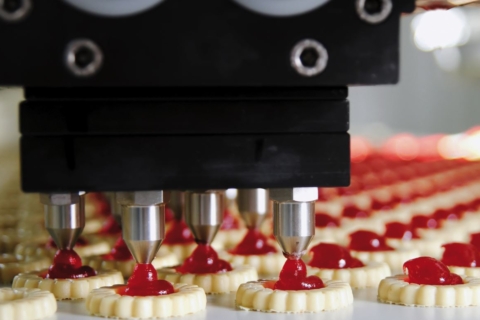 Plastics in Application: Beverages
Along with mineral water, a whole series of different types of beverage are manufactured industrially and filled in vessels such as bottles, cans or barrels. After consumption, most empty bottles are returned for reuse. Ensinger is an important material supplier of machine components used in bottle sorting plants.
Technical plastics such as TECAFORM AH (POM-C) are available in a range of colours and are ideally suited for use as bottle holders and grippers. After sorting, the bottles are cleaned inside and out. Cleaning plants offer a range of application possibilities for plastics: From mechanical parts at the in-feed and out-feed to the bottle slide. These can be manufactured from plastics such as TECAST T natural (PA 6 C), to prevent unnecessary scratches on the glass.
When selecting materials to produce cleaning plant components, the application conditions must be taken into account (hot water, high water pressure and use of chemicals). TECAPEEK natural (PEEK) and the modified material TECAPEEK PVX black (PEEK) comply with the stringent demands involved.
In the actual filling plants, plastics are used due to their low specific weight and their good sliding properties. Whether quick-change devices, worm conveyors or slide rails, the lightweight materials help save energy and reduce maintenance costs due to low wear.
Cast nylon TECAST T MO black (PA 6 C) with its molybdenum disulphide filler combines good damping properties and high strength. In addition, this material offers improved surface hardness and good slide friction properties even in dry running operations.
Plastic components from Ensinger are even used for the final process stages. Typical components include star conveyors in label and packaging machines.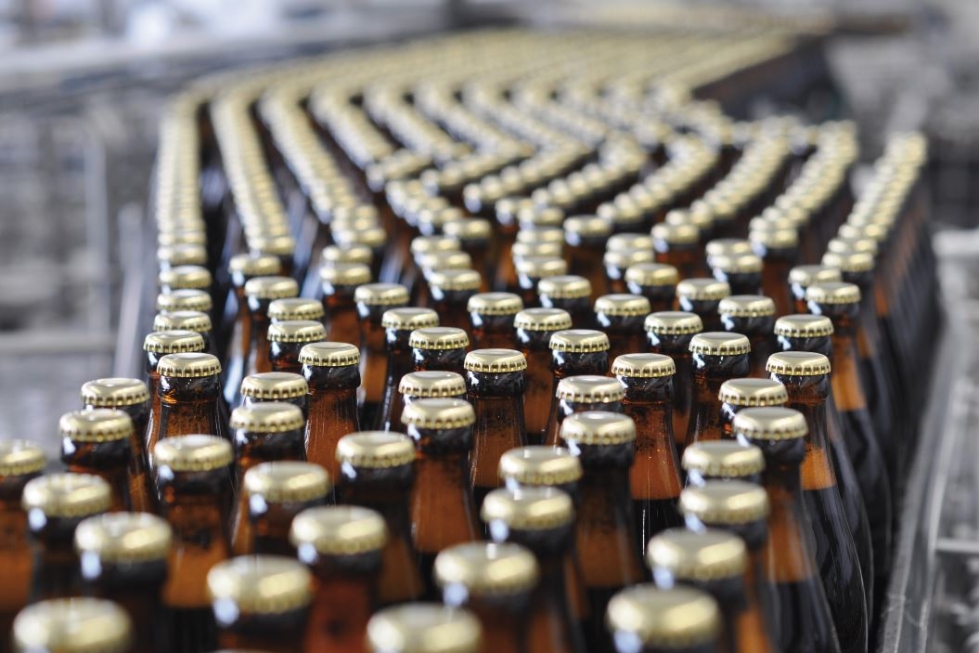 Food and beverage industry plastics: Product portfolio
Our range of Ensinger engineering and high-performance plastics for food and beverage consists of materials suitable for applications with or without food contact.
Applications without direct food contact
For components that do not come into direct food contact, the following plastics are available:
Applications with direct food contact
Especially for components which come into direct contact with food, we have a broad spectrum of suitable materials and food conformity.
This conformity complies to regulations (EC)No 1935/2004, (EU) No 10/2011 with migration results tested on semi-finished products and (EC) No 2023/2006 including FDA conformity on raw materials.
Order-related certificates of conformity are issued for all in-stock dimensions of the following materials:
Food and beverage industry plastics: Special portfolio
Besides the available standard stock portfolio, the special portfolio of materials fulfils the specific demands of food technology in terms of safety and performance. These materials comply of course just as well to the latest EU regulations and FDA conformity on raw materials. The most important ones being:
Optically detectable plastics
The blue colour of the plastic clearly stands out from the colour of processed foods. Optical detection is economical and continues to prove successful in a wide range of applications.
Inductively detectable plastics (ID)
These plastics come complete with an additive to permit detection with the aid of a metal detector. Broken fragments can be quickly traced as part of the standardized process control system. The costly process of destroying whole batches and even image-tainting recall campaigns can be avoided.
Plastic for slide friction applications
Plastic with improved sliding properties has longer maintenance intervals due to less wear and abrasion.
Optically detectable, sliding friction modified high temperature plastic
This high-performance plastic with combined property profile covers a broad range of applications, including excellent slide friction properties and abrasion resistance as well as high strength and chemical resistance.
Food grade plastics with added value
Food grade plastics with multiple uses cover a wide range of applications. In food technology this concerns mainly the combination of very good mechanical strength with good chemical resistance and good sliding properties.
✅ High temperature resistant thermoplastic with very good impact resistance at low temperatures
✅ Good strength at high temperatures
✅ Very good sliding properties
✅ Excellent chemical resistance
✅ Optically detectable
✅ Conforms to food regulations
Food grade ID plastics
The principle of detecting plastics in food is currently based on visual inspection (blue coloration). However, it is only possible to detect foreign bodies in food if the fragment is positioned close to the surface. In any other event, optical detection is not possible. In this case, any possible defect in a component is only noticed when it is far too late to prevent the destruction of large quantities of food if contamination has taken place.
✅ Suitable for permanent utilization at up to 260°C, excellent chemical resistance, inductively detectable, conforming to food regulations.
✅ Very tough and impact resistant, high strength. Inductively detectable, conforming to food regulations.
✅ Easily machined, minimal water absorption, inductively detectable, conforming to food regulations.
✅ Available in blue and grey.
✅ Detectable with metal detectors within the framework of standardized process control
✅ Chemical resistance in analogy to the base polymer
✅ Essential mechanical properties unchanged compared to the base polymer
✅ Fragments from 3mm in size can be detected depending on the surrounding medium
✅ When detecting ID materials by means of a metal detector, the fragment may be located below the surface of the food and still be picked up as a foreign body.
✅ This new development permits rapid detection and so minimizes potential damage.
Food grade UD plastics
UD (ultra-detectable) materials represent a further development of ID materials. These meet the requirements of additional X-ray detection. The Ensinger UD materials are thus optically, metal and X-ray detectable and thus detectable with all methods used in food processing. The material properties and detection limits are the same as for ID materials.
Portfolio of ultra-detectable materials
✅ Product safety is further enhanced by an additional detection method.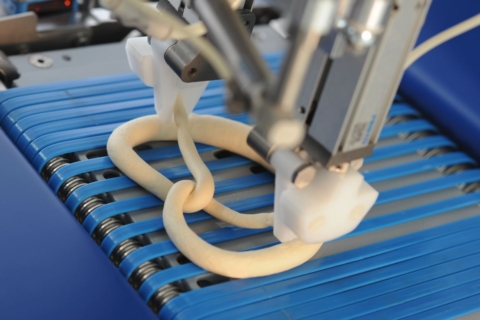 Chemical resistance
Consequently, temperature, the concentration of agents, exposure periods and mechanical load are all important criteria when testing for chemical resistance.
The following table lists resistance to different chemicals.
This information is provided to the best of our current knowledge and is designed to provide data about our products and their applications.
Consequently, it is not intended to provide any legally binding assurance or guarantee of the chemical resistance of our products or their suitability for a concrete application.
NZ experts in food and beverage plastics
Since 1980, Supply Services has been working with technical high-performance plastics. We have longstanding connections with the food and beverage industries, additionally OEM equipment manufacturers.
Our partnership with Ensinger Plastics, a leader in its field, allows us to bring you food and beverage plastics that meet stringent demands of EU and US regulations. At Ensinger, product safety takes number one priority. Special care taken in this field is reflected by product-specific conformity certificates with FDA approval for raw material, regulation EC 1935/2004 and EU 10/2011 for semi-finished products and seamless traceability.
We are proud of our association with Ensinger Plastics and strive to promote quality brands and products to the New Zealand market. Our 3 branches located in Auckland, Mount Maunganui and Christchurch cover the entirety of New Zealand. Contact one our expert team today. Nationwide toll free 0800 102 112.
Standard tests are performed under normal climatic conditions 23/50 ­ in accordance with DIN EN ISO 291.
Download our Ensinger Food and Beverage Plastics brochure below.