Slippery-Deck® – Liners for Trucks
Our  slippery deck truck liners are the most sought after truck deck liners in NZ.
Our truck liners are so popular that our competitors keep infringing our trade marked brand name with the aim of deceiving you.
Don't be fooled. Slippery-Deck® is the original truck and trailer deck lining solution for NZ.
If they say it's like a Slippery Deck liner, then it's not a Slippery Deck liner.
Don't be fooled into buying an inferior product. Buy Slippery Deck®
What are Slippery Deck truck deck liners?
Our slippery truck liners are specially formulated and manufactured by one of the world's leading international manufacturers of polyethylene. Due to their global presence and reputation for excellence, Supply Services Limited is able to offer one of the broadest liner portfolios in NZ.
The range of Slippery Deck® truck liner materials are suitable for lining truck decks and beds, dump trucks, dump trailers, rubbish trucks and railway carriages. We are even asked to line digger buckets, hoppers, screw conveyors; with amazing results.
Our truck liners are the widest polyethylene sheets available in the industry which results in your truck liner installation containing fewer seams, in turn eliminating weak spots. Slippery Deck® is specifically manufactured for truck liners meaning it is designed specifically for the job at hand; to protect and extend your truck deck or dump truck life and quickly release the load.
Each installation of our super slippery truck liners is custom sized and fitted to perfectly match the truck deck or trailer profile.
Slippery Deck® truck liners are designed for the most demanding of conditions, applications and materials that truckers can throw at them. Concrete rubble, aggregates and even asphalt can be used with our liners.
We are proud of the Slippery Deck® brand and we have many happy customers that will only use our super slippery deck liners.
What are the benefits of our super slippery truck deck liners?
Our range of Slippery Deck® truck liners speed up unloading materials no matter if it is wet, sticky or frozen – on the first attempt. No longer do you need to raise the deck to its maximum and back-slam to release your load.
Installing our slippery truck liners will increase the lifespan of your hydraulics and brakes. It will also save your back by removing the need to shovel out the remaining load.
We offer a range of Slippery Deck® grades and thicknesses to suit different materials being carted, temperatures and applications. One size and grade does not fit all and we know this from years of industry experience with truck liners and truckers which is why we have multiple grades of truck liner materials available.
Each grade is designed for long-life and the perfect fit to your truck deck, dump truck or rubbish truck.
Slippery Deck® truck liners are super light weight when compared to aluminium or steel and provide much higher abrasion resistance, plus the added benefit of chemical and corrosion resistance giving you years of service.
Reduce your tipping angle, tip under warehouse roofs, under power lines and above all drastically reduce your chances of a roll over on uneven ground.
Slippery Deck® truck liners virtually eliminate sticking allowing loads to slide out quicker and easier. This allows your to move more loads and make more money.
What are our most common slippery truck deck liners?
Slippery Deck® Medium Duty (MD)
Slippery Deck® Medium Duty (MD) is an HMWPE polymer suitable for non-abrasive products such as snow, dirt, clay, grain, wood chip etc. Loads slide easier. Protects your truck deck. UV stabilised. 3-4 times less wear resistant than Slippery Deck® HD.
THICKNESS: 9.5mm
WIDTH: 3000mm
LENGTH: up to 45m
WEAR RESISTANCE: Good
UV STABILISED: Yes
Slippery Deck® Heavy Duty (HD)
Slippery Deck® Heavy Duty (HD) is UHMWPE polymer for the most demanding applications and is our most popular product. It contains a small amount of re-processed UHMWPE for cost effectiveness and a release agent for enhanced non-stick properties. It is 3-4 times more wear resistant than the Slippery Deck® MD Liner.
THICKNESS: 12.7mm
WIDTH: 3050mm
LENGTH: up to 45m
WEAR RESISTANCE: High
UV STABILISED: Yes
Slippery Deck® Heavy Duty High Temperature (HD-HT)
Slippery Deck® HD-HT is heat-stabilised UHMWPE polymer for the most demanding applications. It is the only liner to use when hauling hot asphalt. It can be cut, formed and plastic welded to provide a slick seamless liner in your truck body.
THICKNESS: 12.7mm
WIDTH: 3050mm
LENGTH: up to 45m
HEAT RESISTANCE: Best
HOT ASPHALT: Yes
UV STABILISED: Yes
Slippery Deck® Off Road
Custom cut to fit odd shaped dump bodies. It can be fitted in any of our grades of Slippery Deck® truck liner. Minimum thickness considered would normally be 12.7mm. We stock Slippery Deck® HD liner materials in 10 different thicknesses up to 100mm to cover the most demanding of applications.
THICKNESS: 12.7mm – 100mm
WEAR RESISTANCE: High
Custom Slippery Deck®
Slippery Deck ®HD-HT and HD grades are available from thicknesses starting at 6mm and in wider widths up to 4060mm. This additional width allows Slippery-Deck® HD-HT and HD to cover larger areas, allowing for truck and trailer side walls to be lined higher for specific applications.
Will I know anyone who has one of our liners fitted?
Most likely as we have been fitting Slippery Deck® since 1998 in New Zealand. These are just a few of our satisfied customers:
Fulton Hogan, Taylor Bros Transport, Winstone Aggregates, Stevenson Group, Higgins Contractors, P&I Pascoe, Warren McLean Cartage, J. Swap Contractors, Inframax Construction,Atlas Concrete, Firth, Road Metals, Jackson Enterprises, Transfleet Equipment, Transport & General Eng, Hick Bros. and more…
Slippery Deck truck liners frequently asked questions
What is UHMWPE?
UHMWPE stands for ultra high molecular weight polyethylene. It is the most abrasion resistant grade of polyethylene by far and is often referred to as the worlds toughest polymer. Our UHMWPE is specifically manufactured for truck liners with the least amount of seams.
Where is Slippery Deck® made?
Slippery-Deck® is made in the USA by Polymer Industries Inc., a world leader in the manufacturing of polyolefins.
How much weight will Slippery Deck® add to my trailer?
The standard 12.7mm x 3,050mm product will add approximately 40kg per metre of Liner.
How long will a super slippery truck deck liner last?
This depends on what you are dumping, how often and the condition of your deck. Generally speaking a HD-HT liner will last 2x longer than steel and 4x longer than aluminium.
Can a truck liner be repaired?
Yes. Liners sometimes get damaged by diggers buckets etc. We can cut pieces out and weld new pieces in.
Is there anything I shouldn't put on a Slippery Deck® truck liner?
Sharp objects like demolition material can damage or puncture a truck liner. If you have to occasionally cart this type of material then you can put down a layer of finer crushed material first.
How long does it take to install a truck deck liner to a truck or dump truck?
An experienced team of 2 people can install a liner in 4-8 hours, with dump trucks taking slightly longer depending on the model.
How is a Slippery Deck® liner held in my trailer?
Normally the truck liner is bolted through the deck at the head board and sits under a steel or aluminium cap that runs down each side of the walls. Plastic truck liners expand and contract with changes in temperature during the day, so they can only be fastened at one end. The alternative, as is done in OFF ROAD Liners, is to completely fasten them down.
How can I make my truck liner last longer?
Check the liner regularly and remove any material such as stones that may have gotten underneath it (your installer can show you how to do this). Foreign matter under the liner will cause high spots that will prematurely wear through.
Can I get Slippery Deck® liners in any other colours?
Yes. Dark grey, black or white are the standard colours but if you need a corporate colour we can do that too. You may have already seen our red and blue truck liners on the road.
What is the warranty for our Slippery Deck® truck deck liners?
All our super slippery truck deck liners come with a full manufacturers warranty for durability and protection.
Why have we trade marked our brand of truck liners as Slippery-Deck®?
We are one of the original and most trusted suppliers of UHMWPE and HMWPE materials specifically for truck deck liners in NZ. Since 1998 we have built an enviable product range and brand recognition to the NZ market.
We have found that various players in the market are trading their truck liner materials (some manufactured from inferior resins and manufacturing processes) as our Slippery-Deck® liners so we decided to protect our brand and trade mark both the name Slippery-Deck® and the Slippery-Deck® logo almost two decades ago.
If you see any company in NZ selling truck liners branded as Slippery-Deck®, we would appreciate you calling or emailing us as this is infringing on a legal trade mark.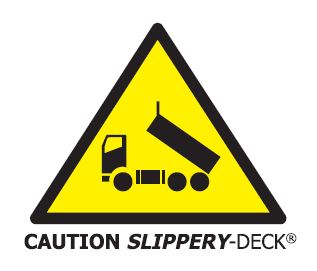 See below for some of our installation photos.