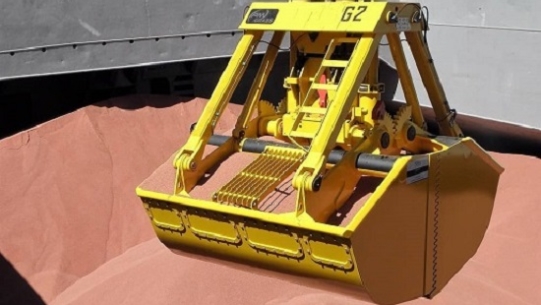 Page Macrae Engineering improves productivity with crane grabs lined with UHMWPE
Page Macrae Engineering recently fitted some of our North American manufactured ultra-high molecular weight polyethylene (UHMWPE) to one of their impressive crane grabs which was subsequently fitted to a large international cargo ship.
With its amazing chemical resistance, low coefficient of friction and self-lubricating properties, UHWMPE is the ideal engineering plastic material to line a crane grab.
It offers very high impact and abrasion resistance and is often described as the world's toughest polymer. UHMWPE can take a real beating.
Reduced carry-back improves productivity
UHMWPE is often used in applications such as hopper liners, wear strips, guide rails, wharf fenders, marine components, noise reduction parts and applications requiring high abrasion resistance or anti-stick properties.
This list is nearly endless.
As product does not easily stick to UHMWPE, it promotes flow and reduces hang-up.
By eliminating hang-up your crane grab can move more product per load, thus increasing productivity.
As the main sliding surfaces of the crane grab are lined, wear and tear occurs on the UHMWPE liner, not to the steel itself, which can increase service life of the grab and reduce maintenance windows.
Take into account service operating temperatures
The grab shown is fitted to a large international cargo ship.
This ship can operate in extreme temperatures at Australian ports, at temperatures as high as 48ºC.
It was vitally important that our technical solutions specialists advised Page Macrae Engineering around the thermal expansion requirements of UHMWPE.
Thermoplastics will expand and contract during the heating and cooling cycle of the day.
This can cause warping and buckling of the UHMWPE liner creating high points which leads to premature wear.
The worst case scenario if thermal expansion is not correctly calculated will see the UHMWPE liner rip free from its structural mountings (either bolted, welded in-place or secured with flashings).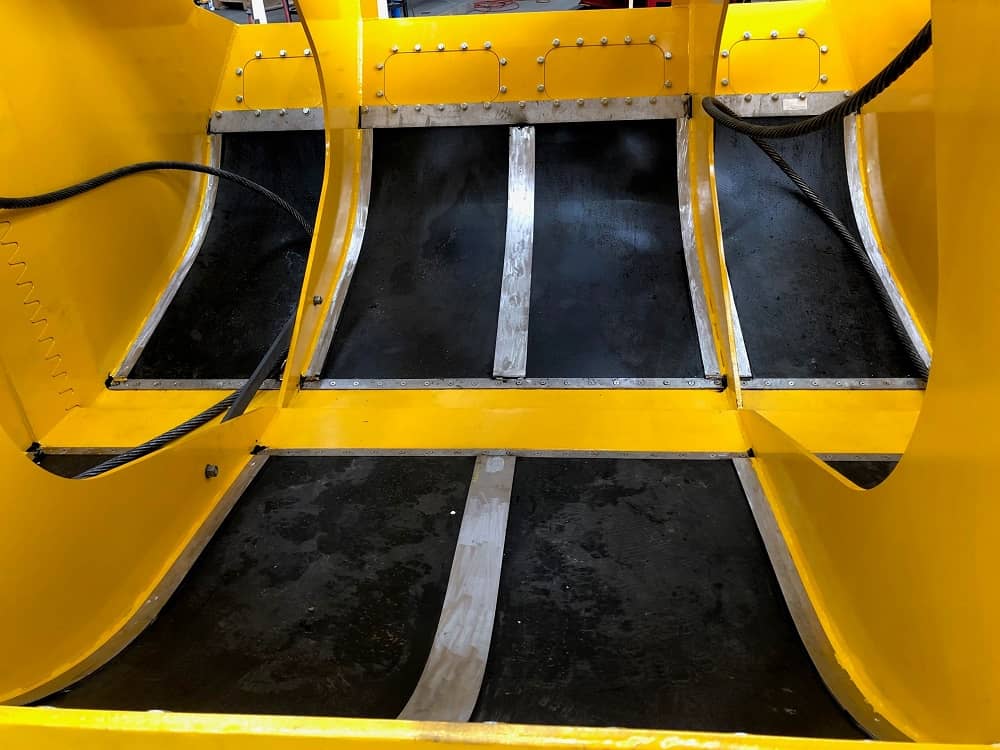 Take a look at Page Macrae Engineering port equipment
Productive in the toughest conditions.
For a complete solution to satisfy your stakeholders, we deliver quality port equipment which is proven in the field.
You can achieve environmental compliance, maximise your productivity, minimise maintenance costs and ensure safe operation for your people.
Port operators, stevedores, maritime and log logistics companies throughout Australia, New Zealand and the Americas are successfully using our port equipment in their operation.
We wish to thank Page Macrae Engineering for allowing Supply Services Limited to use their photography for this blog post.
Thanks Team!
Want to learn more about our range of UHMWPE engineering plastic materials?
Supply Services Limited stocks a range of UHMWPE materials in a vast array of stock shapes.
We have cross-linked grades, grades with additives or fillers included at manufacture that assist with friction, abrasion or UV.
Read more about our range of UHMWPE sheet for New Zealand industry.
To read more of our blog posts specific to UHMWPE and applications, click though to see all the relevant UHMWPE blogs.
Should you be looking for information about our extensive range of high performance, engineering or standard plastic materials, then head on over to our main engineering plastics web page.
Contact one of our technical solutions specialists today to discuss your application
We offer full service from start to finish with branches located in Auckland, Mount Maunganui and Christchurch.
All three of our nationwide branches offer CAD design, manual and CNC machining services.
We are fully stocked with engineering plastics, chains, sprockets and associated parts.
No matter where you are in the country, we have the people and the know-how to help you out.
Click your closest location for more information.