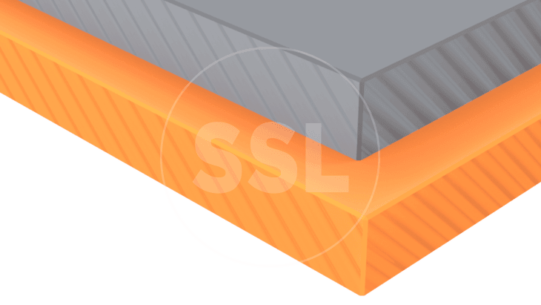 UHMWPE Sheet for NZ industry
What grades of UHMWPE sheet do we stock?
There is a large range of UHMWPE materials available on the market. We offer a wide variety of these and each offers their own special characteristics.
Different grades are different price points, some are food grade certified, some are not. We can supply UHMWPE grades such as:
Premium
Polyslick™ XL is the superlative abrasion resistant grade of Ultra High Molecular Weight Polyethylene UHMWPE. XL grade is further enhanced with either silicone (XLS) for release and slip, or with glass (GXL) for unparalleled wear resistance. POLYSLICK™ XL grades are UV stabilised and have reduced thermal expansion.
Natural
Ultra High Molecular Weight Polyethylene UHMWPE is often referred to as the world's toughest polymer. UHMWPE has high abrasion resistance, as well as excellent impact strength. It is chemically resistant and has a low coefficient of friction which makes it highly effective in a variety of applications.
Reprocessed
Reprocessed grade UHMWPE utilises finely ground post production material to produce an economical substitute to using 100% virgin resin. Technical properties will be reduced from virgin material although hardness may be slightly increased. Generally the colour is black but it may show other coloured particles.
Plus More Grades!
Anti-Static. UV Resistant. Metal Detectable. Conductive. Ceramic Filled. Glass Filled. High Temperature. Oil Filled. Moly Filled. Cross Linked. Glass Filled and Cross Linked.
Our UHMWPE sheet for NZ industry is available in numerous variations, many food contact certified.
It can be cross linked, have additives or fillers included at manufacture that assist with friction, abrasion or UV.
The main properties of UHMWPE sheet include extreme low friction, light weight and impact resistance.
Additionally, it offers abrasion, chemical and odour resistance.
Nontoxic and non-hazardous, it will not rot, swell split or chip.
It is one tough material.
Supply Services stocks an extensive range of UHMWPE sheet across our three nationwide branches located in Auckland, Mount Maunganui and Christchurch.
We offer a nationwide Cut to Size Plastic service.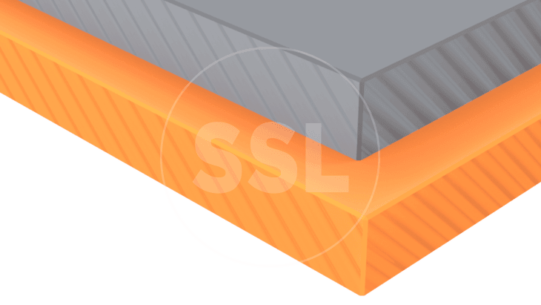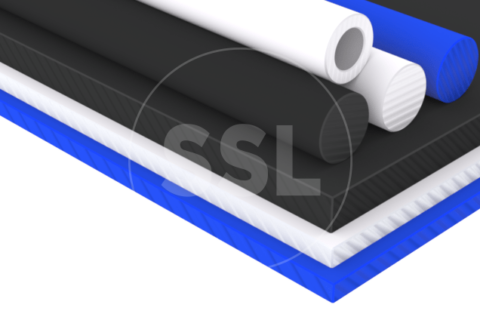 UHMWPE sheet belongs to the polyolefin family.
It has been commercially available since the 1950's and is one of the most used engineering plastics in the world today.
Most UHMWPE sheet products are produced by compression moulding or ram extruding powder or granules under high pressure and temperature through a sintering cycle.
It has extremely long polymer chains allowing the molecules to overlap and bond to each other which give the material it's strength, with a molecular mass typically between 3.5 -7.5 Million.
With almost unlimited uses you will find it in the food industry, water and wastewater treatments plants, hydraulics, pneumatics, truck liners, hopper and chute liners, pile guides and dock fenders just to name a few.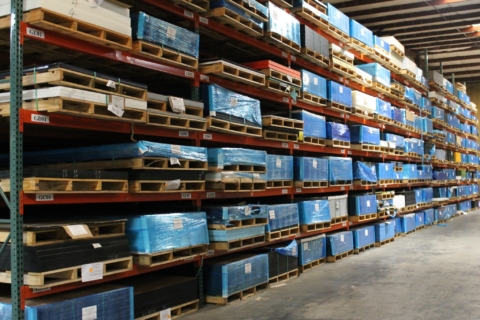 What thicknesses of UHMWPE sheet do we stock for NZ industry?
Our UHMWPE Sheet is available in sheet thicknesses from 1.5mm to 200mm thick, again in small size increments.
Colours available are natural, black, blue, grey and orange.
Custom colours can be manufactured on request, subject to minimum order requirements.

Our range of UHMWPE sheet for NZ industry is manufactured in the United States by Polymer Industries, one of the world leaders in polyolefins.
They produce stock shapes of sheet and rod and ship their UHMWPE products worldwide.
Due to the capabilities of their multiple production facilities, they offer an extreme broad range of UHMWPE sheet products.
Looking for blue UHMWPE that is food compliant?
Blue UHMWPE is the perfect material to assist with visual detection of foreign matter.
Apart from kids parties and the like where the icing on the cake might be blue, there is a limited number of naturally occurring blue foods.
This is the key reason that leading international engineering plastic manufacturers now offer blue UHMWPE materials.
Read more here about our food compliant blue UHMWPE.
Contact Supply Services Limited Today
Looking for a quote or to order UHMWPE SHEET, contact one of our three nationwide branches by calling 0800 102 112 now.