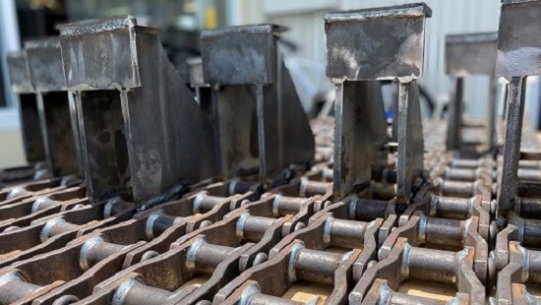 Log Infeed Elevator Chain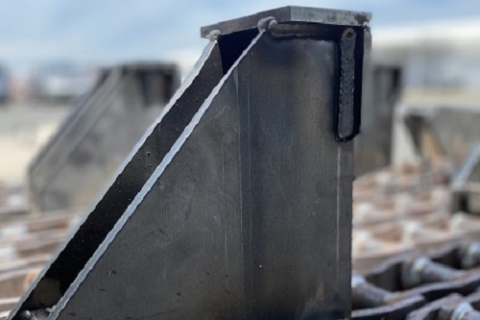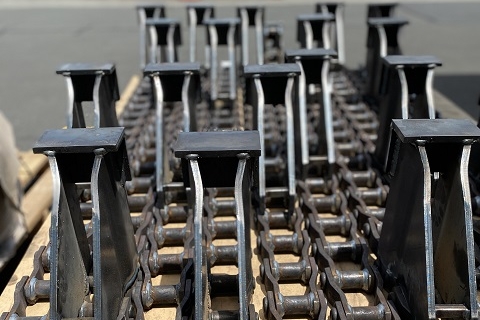 CAN-AM welded steel mill chains provide an economical and superior method for conveying most materials.
They are the most common chain in the lumber, pulp and paper and plywood mills.
For higher impact strength and greater wear resistance, we offer fully heat treated and/or induction hardened chain.
We offer a range of CAN-AM conveyor chains such as WH78, WH82, WH124, WH111, WH106, WH132, WH150, WH157, WH159 and WH200.
All our CAN-AM chains come standard with heat treated rivets.
Any of our chains can be supplied in extra heavy duty (XHD) variants and with next level heat treatments on barrels, rivets and sidebars.
Introducing our CAN-AM WH124IBR Log Infeed Elevator Chain
Log processing is the most challenging function of a sawmill with regard to conveyor chains.
These particular chains are used for carrying logs up an incline for further processing.
Constantly subjected to strong impacts and stress peaks, quality chain is dictated.
Welded steel, fully heat treated with induction hardened barrels and rivets.
This specific chain for one of our valued customers has matched strands fabricated with Elevator Lugs every 12th pitch to meet exact application requirements.
The scope of attachments available for these chains is only limited by your imagination.
CAN-AM Chain is manufactured with superior North American steels designed for the harshest of conditions.
High-quality steel offer excellent in-field weldability and have been proven over the last 50 years for durability and reliability.
CAN-AM was the first chain manufacturer to supply H class heat treated chains with induction hardened barrels, though hardened and full scan induction hardened rivets as standard.
Supply Services was the first to offer this level of heat-treated chain to the New Zealand market.
Our quality chain products are distributed across New Zealand, Australia and the Pacific Islands.
Check out our conveyor chains and attachments on our website or contact our team today for more information.
Download our latest chains and sprockets brochure