Our Products – Leading Conveyor Chain Supplier in New Zealand
Supply Services Limited is the leading and most trusted conveyor chain supplier to all sectors of New Zealand industry.
Since 1980 we have been importing conveyor chains from international manufacturers who are recognized as leaders in their field. When it comes to conveyor chains for the forestry and timber sectors, Supply Services Limited is recognised as the New Zealand experts with staff who have been involved in this industry their entire careers. Our conveyor chain touches every industry in New Zealand.
We are proud of the long associations we have formed with small businesses the length and breadth of the country to New Zealand's largest manufacturers and exporters.
What Conveyor Chains Do We Stock?
Our chain range is massive! Across New Zealand our branches located in Auckland, Mount Maunganui and Christchurch are stocked to the brim with a wide range of conveyor chains. We direct import a range of custom designed and manufactured chains for our larger customers to their exact application requirements.
With the amount of chain on the shelves, we must be New Zealand's largest or one of the largest conveyor chain suppliers in the country. Our range of conveyor chains encompasses:
Cast H&C Chain in either cranked link H class or straight sidebar C class. Common chains in this range are H78, H82, C55, C188, C131, C102B.
Rooftop series H78A, H78B, H130, H138, C55A, C55B, C55D. Pitch sizes from 1.630″ to 8.000″​.
Welded Steel Mill Chains are an economical and superior method for conveying most materials. They are most common in the lumber, pulp & paper, plywood, OSB and other board mills. Other applications include bucket elevators and bulk material handling. Various through and induction hardening options. We stock a wide range of these chains in pitch sizes starting at ​2.609″ to 6.125″. Common chain names are WR78, WH78, WR 82, WH82, WR111, WH111, WR124, WH124, WR132, WH132 and WR157 and WH157.
Welded Steel Drag Chains provide efficient and economical service when used in chip and waste conveyors. Various through and induction hardening options allow you to tailor the chain to the application. Super Hog thick wall barrel and Whole Hog round barrel chains are available for heavy duty applications such as chip reclaims and debarker infeeds. Pitch sizes from 5″ to 8″. Common chains are WD102, WD110, WD120 and WD480.
Read about our Welded Steel Mill and Drag Chain range available and the differences between welded steel chains vs. their cast chain equivalents. Also learn about the different types of mill and drag chains.
81X Trimmer Chain is 2.609″ pitch and used extensively on sawmill trim lines. It is a versatile, economical and light weight chain that can run at relatively high speeds. It is also available as Heavy Duty 81XH and Double Heavy Duty 81XHH. All 3 chains use the same diameter pin. This chain is also available in 304SS and 316SS for dip tank and other corrosive environments.
Roof Top Chain is available in a variety of sizes and shapes. Chain caps are available made from steel, rubber and plastic or with rollers for the lowest friction coefficient. 81X-A, 81X-R, 81X-UP, WR78-UP, WR78-URT, WR78-4URT, WR78-RTN, WR124-URT, H78A, H78B, H130, H138. Pitch sizes from 1.63″ to 4.063″.
Refuse Flight Chains are used for long sprocket centre distance conveying of refuse products in non-abrasive environments such as sawdust and wood chip conveyors. The chain is fitted with 100mm square low friction UHMWPE covered attachments to move the product.
Common chains are WR132, WH132, WR157 and WH157.
Bin Sorter Chains are used to conveyor the scanned boards to the appropriate graded bin. Typical chains with polyurethane J-hooks are ANSI 3939 (8" pitch) and 9" pitch, 15,000lb BS roller conveyor chain. Drop sorters typically use ANSI C2100H chain.
Debarker Chains fall into 3 categories: (1) Flail chain, ring chain for mobile chippers. (2) Cast chain, for various machines in alloy or manganese steel c/w through hardened 4140 pins. (3) Twin strand, welded steel chain c/w hardened steel cradles.
Long Link Chain in imperial & metric configurations are available in a range of pitch sizes. Round, oval & square link to suit different applications.
Available in alloy steels, manganese, with through or case hardened options. High hardness, reduced elongation, resistant to shock loading.
Read a recent article about our long link chain fitted with Skookum flight attachments.
Sharp Chains have 6" pitch block and bar. These are heavy duty chains used for accurate high volume primary breakdown of logs through the bandsaws. These chains are precision made and run on special plastic beds and purpose designed hardened sprockets.
Double Length Infeed & Auto-Rotation Conveyor Chains are heavy duty cranked link roller chains with precision located log cradle attachments. They are used for the scanning and optimisation of logs before the bandsaws.
Drop Forged Chain also known as En-Masse chains. These versatile and simple chains are high strength and wear resistant. They are capable of conveying a multitude of products on inclines up to vertical and at temperatures of up to 1000 °C.
Common sizes are 102mm, 142mm and 260mm pitch.
Steel Pintle Chains have open barrels and were originally developed for the agricultural industry. Generally, they are used in applications such as spreaders, feeder systems and spray boxes where sticky substances would otherwise seize a closed barrel type chain.
Common chains are 667X, 667K, and 88K with pitch sizes from ​1.664″ to 2.609″​​.
Sewerage Treatment Chains are available in either steel or plastic, with the plastic chains becoming more common due to their resistance to corrosion, light weight and ease of installation. For example, PC720S (6.000" pitch) or PC78 (2.609" pitch) chains. Their metal counterparts being WR720S and WR78.
Rivetless Chains are drop forged from carbon steel, normalised, heat treated and quenched. This very simple chain design allows for tool free assembly or disassembly at any pitch in the chain. The standard chain allows for general applications, whereas the X-Series is specifically designed for overhead trolley conveyors. 3, 4, 6 & 9″​ pitch size available.
Metric Conveyor Chains or European Metric chains are made according to 3 different styles DIN8167, DIN 8165 and SMS 1698. They are multi-purpose straight side bar conveyor chains useful for a multitude of applications.
Pitches vary from 40mm to 500mm and ultimate tensile strengths from 40kN to 900kN.
Double Flex Chains are Bi-Planer in nature and are designed to flex in two directions. They usually run around a horizontal radius and then return under the conveyor. Typical applications would be bottling conveyors, log turning and taking lumber around a bend. Common chains are malleable CC600 and DF3500.
British Standard Roller Conveyor Chains are generally manufactured to BS4116.Pt4.1992. They are multi-purpose straight side bar conveyor chains useful for a multitude of applications. Pitches vary from 50.8mm (2") to 381mm (15") and ultimate tensile strengths from 26.7kN (6,000lb) to 750kN (170,000lb). Pins can be solid or hollow and the rollers can be either plain or flanged style. Many types of attachments can be fitted either as integral links or welded on.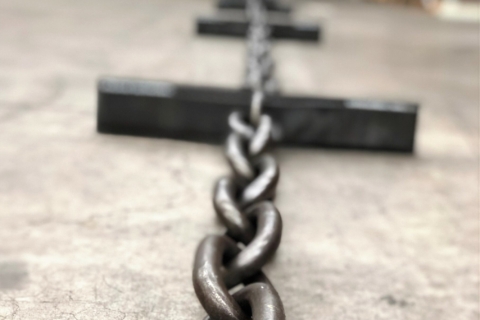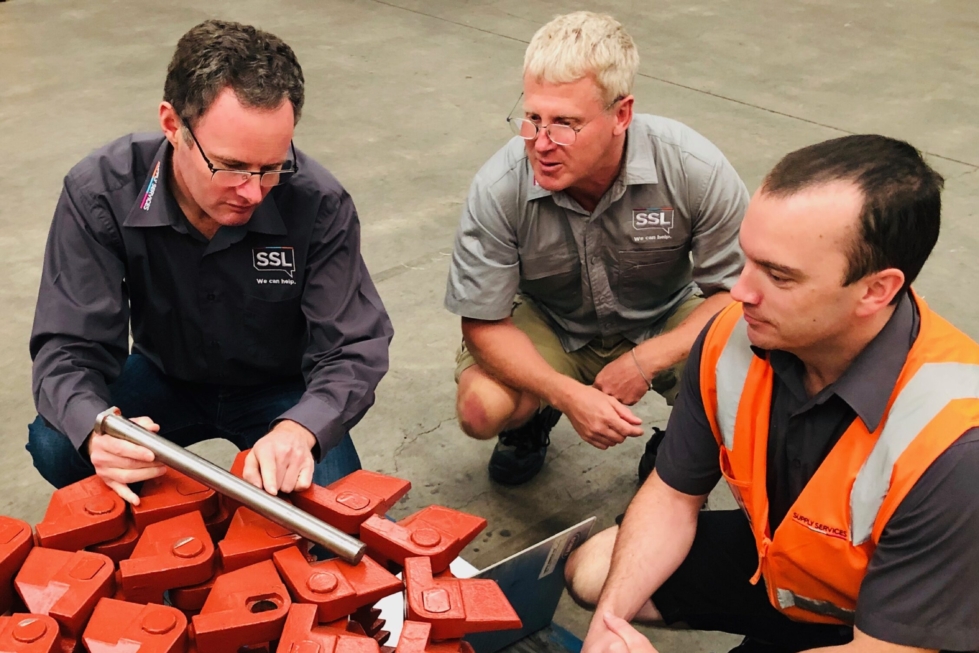 Some of our International Suppliers
CAN-AM CHAINS is a premier manufacturer of a wide variety of welded steel, specialty chains, bearings, sprockets and engineered plastics for the forest products and waste water treatment industries. With a reputation for performance and reliability, CAN-AM CHAINS include roller chains and welded chains, such as mill chains, drag chains, malleable chains, and power transmission chains. Whenever chain performance means productivity, CAN-AM CHAINS Delivers!
FB Chain provides the highest quality materials and manufacturing methods to suit the most arduous of conveyor chain applications, from the transport of biomass fuels, to the recycling industry, paper & pulp, cement, steel-work, the wood industry, and food processing.
HEKO Ketten is one of the leading manufacturers of hardened chains for bucket elevators and chain conveyors since decades – worldwide. HEKO is market leader for heat resistant kiln chains.
Connexus Industries Inc. Connexus Chains are engineered, designed, and manufactured to ISO9001:2008 standards to meet the highest industry specifications. Material selection, manufacturing tolerances and controlled Heat Treating are the most important criteria for constructing chains designed for long service life in arduous applications.
Plus many more!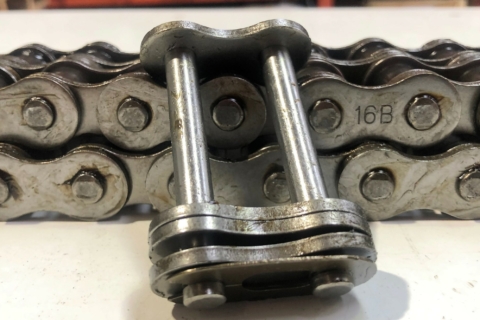 Your Chain Needs Sprockets, So We Do Sprockets Too
New chain runs best with new sprockets. For any chain we stock we can also supply matching sprockets in nz that are either off the shelf, fabricated in-house or directly imported from one of our many conveyor chain suppliers. One of specialties is conveyor chain split sprockets. Split sprockets are the ideal sprocket especially in areas of limited working space. They are simple and easy to assemble in hard-to-get areas. Our range of split sprockets for conveyor and wood processing chains allow for the sprocket to be assembled without having to dismount the shaft assembly.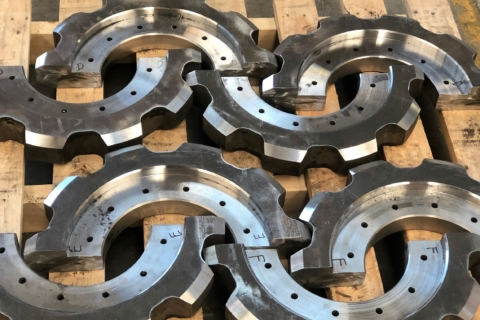 Download Our Chain and Sprockets Brochure
Call Us Now!
Pick up the phone and dial 0800 102 112 to speak to one of our team about your application requirements or to organise one of our roaming experts to pay you a site visit.