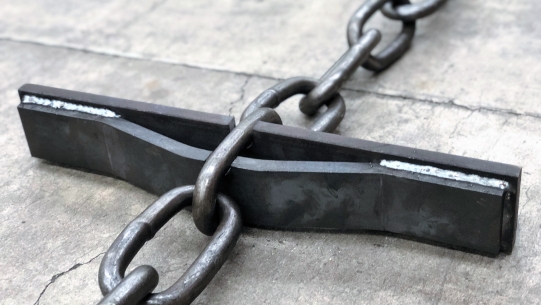 Long Link Chain with Skookum Flights
Long Link Chain with skookum flights: one of our specialties since 1980 for the timber, sawmill, OSB and pulp and paper sectors.
This style of chain is commonly used in the New Zealand wood processing sector for refuse conveyors moving bark, sawdust and similar materials. The attachment fitted to this chain is an industry standard attachment called a "Skookum Flight".
There is a range of benefits to using alloy chains such as:
Where the properties of allow steel fully heat treated can save on downtime and replacement costs, compared to chains of lesser quality
Extremely high hardness value
Reduced elongation problem
Resistant to shock loading, grain growth, and work hardening
Less reduction in strength when used at temperatures up to 370°C, than other grades of chain tested
Not subject to brittle fracture at low temperatures
Our Range
Long link conveyor chains are available in imperial & metric versions from leading chain manufacturers. Square, oval & round link chains in a range of pitch sizes to suit a vast array of conveying and elevator applications. Long link chains are available in a range of materials, hardening & strengths.
Skookum flights is just one type of attachment we can fit to these popular conveyor chains.
For more information on these chains, check out our product page.
We also offer a range of sprockets to suit all our chains, but our split sprockets are very popular. And if you haven't seen it, here is a recent blog post on our welded steel mill and drag chains.
Give our team of experts a call to see how we can help to keep your business moving.