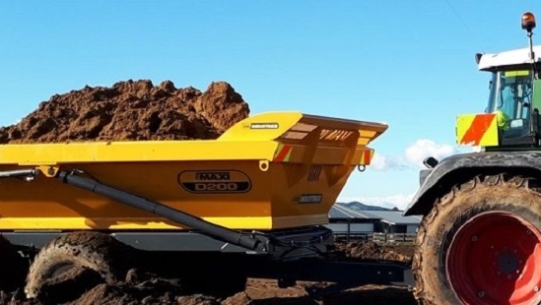 Move More Loads with a Plastic Truck Bed Liner from Slippery-Deck®
Another quality installation of our premium grade, USA manufactured, Slippery-Deck Liners® undertaken by Inovit Limited, Hamilton, for one of their valued clients HW Industries. Installation was into a HW Maxi Tip Trailer.
Slippery-Deck® helps eliminate sticking, reduces carry back and allows you to move more bulk material improving your productivity.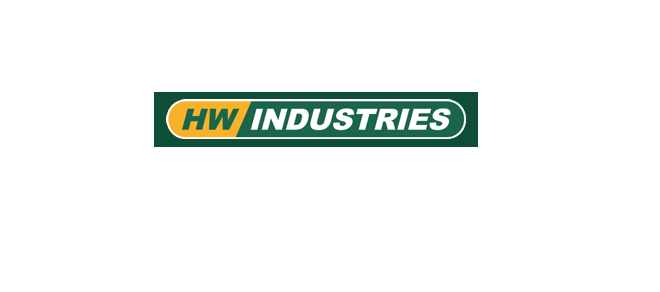 Why does Inovit Limited choose to use Slippery-Deck® Liners?
Slippery-Deck® is the original, high-performance plastic truck deck lining material for the New Zealand market.
It has been tried and tested by various bulk haulage operators around New Zealand.
We have a range of clients that swear it's the best thing since sliced bread and the payback can be in weeks.
With a reputation for being super tough, its high impact strength, its extremely slick non-stick surface and the massive range of applications it can be used for, why would you choose an inferior liner product that just won't last the distance.
Our UHMWPE liners are 3-5X more resistant to wear than HMW liners on the market and are ideally suitable for large rock and heavy-duty hauling.
Inovit chooses to use Slippery-Deck Liners due to its longevity and track record in the New Zealand marketplace.
This gives Inovit peace of mind that what they are installing for their customers will do the job, over and over for years to come.
The damper months of late autumn and winter is when Slippery-Deck® Liners will help you out-haul the competition! Some operators recover the cost of Slippery-Deck® within weeks due to less carry-back.
The original dumper body prior to installation
If you are hauling sticky clay or mud around then you will know that it sticks to steel like "something" to the proverbial blanket!
By installing a Slippery-Deck® Liner you are not just reducing the stick and allowing loads to slide out easy, you are also protecting your investment.
Slippery-Deck® protects the walls and bed of the truck, dumper or trailer that has been lined.
It reduces tipping angle lessening the chance of a rollover, and your hoists do less work.
It is far cheaper to replace a worn out Slippery-Deck® Liner than it is to replace the steel bed on your dumper.
The unlined side walls and bed of an HW Maxi Dump trailer prior to installation is shown below.
After installation of the Slippery-Deck® Liner
Cut to a specific size and shape to perfectly fit the body, considering thermal expansion for the hotter months of the year, this Slippery-Deck® Liner has been expertly installed by Inovit Limited.
Notice the flange capping around the top to stop loose material from getting under the Slippery-Deck® Liner and creating high-points that will cause premature wear.
Where weld washers have been used to adhere the liner to the truck body, these holes have been plastic welded over to remove any wear points and very importantly the ability for material to get into these points and start lifting the liner.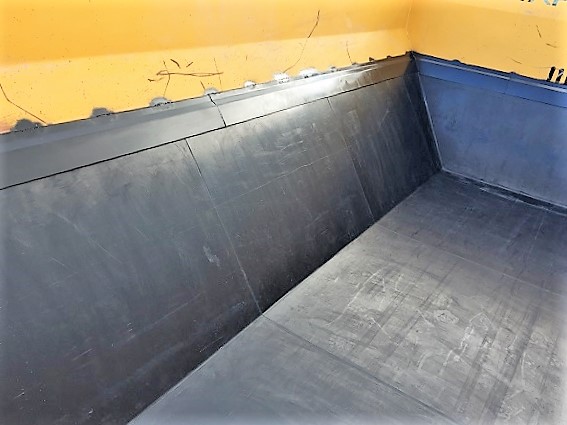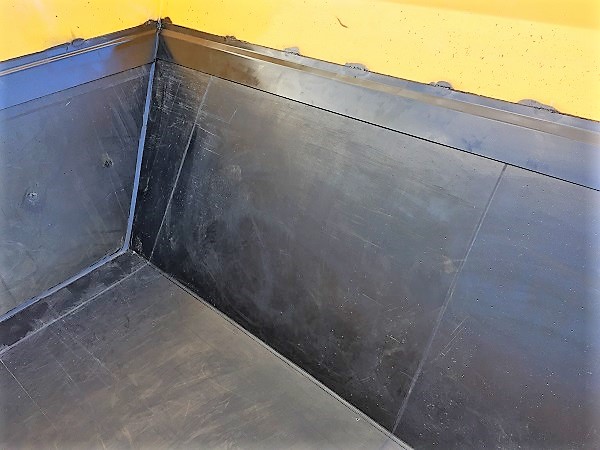 What are the common uses for our Slippery-Deck® Liners?
We have a range of Slippery-Deck® Liners each suited to their own application.
The Slippery-Deck® Heavy Duty (HD) liner that is shown fitted in the above pictures are often used across many industries for applications such as:
Hopper liners, gravity box liners, dump truck liners, train wagon liners, manure spreaders, lime spreaders, silo liners, sand spreaders, farm equipment, side dump truck liners and off-road liners.
We even have a high temperature liner that is heat stabilised suitable for hot asphalt with many installations around New Zealand.
Contact Supply Services to discuss your application requirements, or contact Inovit Limited should you wish to talk with a local Slippery-Deck® installer.
Here is a another installation of Slippery-Deck® that Inovit Limited has recently installed.
Read more about our truck liners that are super slippery for NZ truckers.