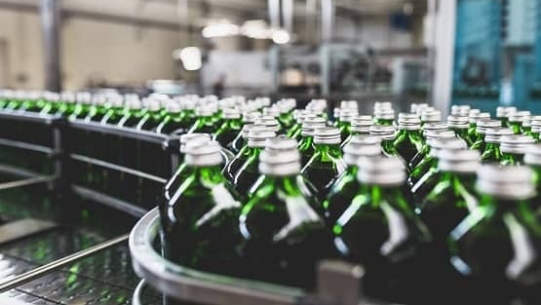 Performance Plastics Products Save 360,000 Litres of Water
When a customer comes to you in the middle of the Auckland water crisis and requires a solution to dramatically reduce their water consumption, smart material choices were required.
Our customer was consuming 360,000 litres of water per annum lubricating the OEM bushes and lifting rollers on just one of their rotary bottle filling machines.
Using water as a lubricant was the only way to get the filler pedestals to drop under their own weight.
The drought threw a spanner in the works for many Auckland businesses that utilise water in their production lines.
Under pressure from the local council to cut their water consumption, and additional penalties for exceeding their water allocation, our customer was looking for a simple solution to drastically cut water consumption.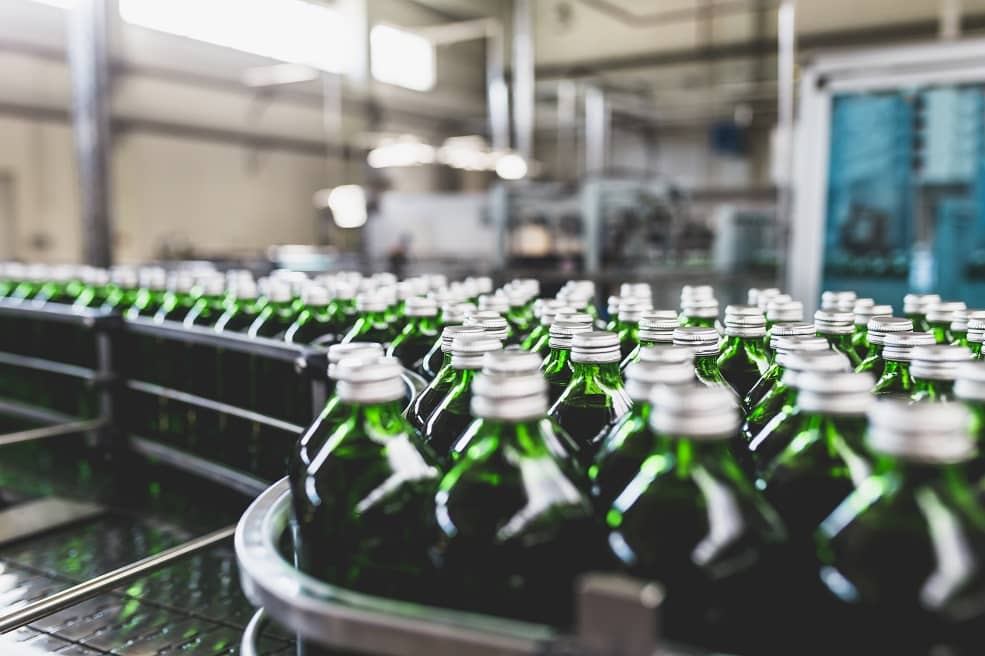 How did we help this business become a water saving hero?
Our Technical Manager of Performance Plastics, Mark Brown identified that this customer could immediately reduce their water consumption with the implementation of some high performance engineering plastics and composite materials.
These high performance plastics would assist this customer to 100% remove water from this specific operation and become completely dry running.
A saving of 360,000 litres of Auckland's water was a great win for this customer and we were very happy to have been able to help and offer a technical solution.
What performance plastics and composites were used to reduce the water consumption?
There were two high performance materials required to achieve the dry running of this bottling line.
The engineering plastics and composites selected were based on technical specifications, operational requirements, budget constraints and our vast industry knowledge.
And, the customer needed it yesterday!
These quality materials were Ensinger TECAPET TF for the lifting cam rollers, and TriStar Composite Journal (CJ's) Bearings for the linear guide bushes.
Both of these stock shapes are available off the shelf throughout our New Zealand branch network.
Our team designed the finished parts and were then CNC machined ready for installation at the customer's site.
The below image shows one of the rotary production lines that has been modified with performance plastics and composites.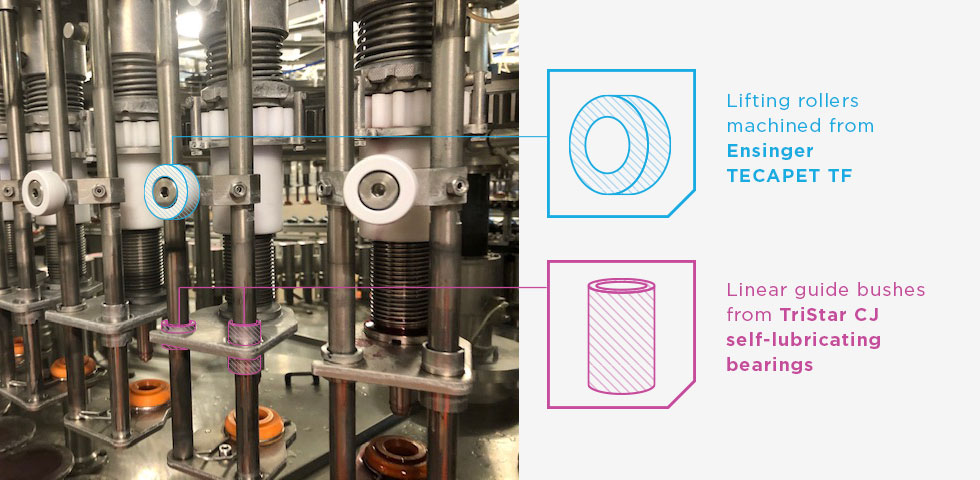 Ensinger TECAPET TF for the lifting cam rollers
TECAPET TF is a PET (polyethylene terephthalate​) polyester with the addition of PTFE (polytetrafluoroethylene) solid lubricant to further improve base PET performance characteristics.
With a lower coefficient of friction, TECAPET TF is the ideal engineering plastic material for applications requiring the amazing properties of standard PET but with improved wear and sliding attributes.
TECAPET TF is capable of carrying high loads with super low friction which dramatically reduces frictional head build up.
A dimensionally stable material with very low water absorption, excellent wear characteristics and will extend the life of the rollers.
The perfect material for mating soft steels and plastic surfaces.
Often used for sliding applications such as slide ways, bearings with high load, un-lubricated parts, gears & thrust washers.
Take a look at our TECAPET TF product page for more information.
Did you know that TECAPET TF also helped slide the Kawarau Falls Bridge across the gorge, south of Queenstown? Read more about that here.
TriStar Composite Journal (CJ's) Bearings for the linear guide bushes
TriStar CJ's bushes were the ultimate choice for this application.
The bushes needed to be thin walled without risk of working loose, but most importantly required a super low coefficient of friction with no additional lubrication.
They excel where low maintenance and long wear life matter.
CJ's are dimensionally stable in fluids and temperatures from cryogenic -195°C to +149°C , chemically resistant, and are self-lubricating by design.
Light weight, high strength, fatigue resistant TriStar CJ composites are the ideal bearing choice for non-lubricated, high load/low speed applications.
Excellent resistance to impact and shock loads and are capable of withstanding a high degree of shaft misalignment.
The perfect material for any application where you want to eliminate the use of lubrication.
Watch the below video for more information about our range of TriStar CJ Bearings.