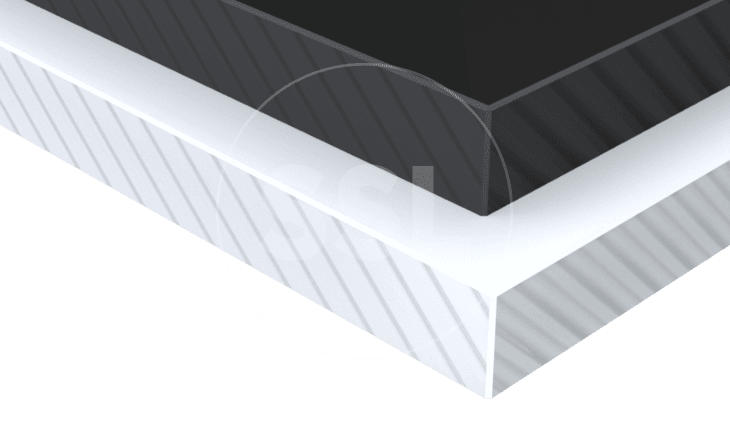 HMWPE PE500 (High Molecular Weight Polyethylene) is a general-purpose polyethylene with excellent mechanical properties suitable to less demanding applications that would otherwise require UHMWPE. Offering rigidity, creep, moisture & crack resistance even at low temperatures, HMWPE PE500 is a great material choice for parts where some impact & abrasion resistance is beneficial but not the main requirement.
High impact strength even at low temperatures
Very good wear and abrasion resistance
Sheet
0.8mm to 400mm Thick
Colours
Natural & Black. Colours on request
Modified Grades
Yes. Reprocessed or anti-static grades.
Cut to Size
Yes, however some grades have minimum order quantity
UHMWPE, HMWPE or HDPE?
For a super tough material with exceptional impact & wear resistance UHMWPE is the best choice for impact & wear applications. For a great general-purpose material with less impact & wear resistance but increased hardness, HMWPE PE500 is a good choice. For the hardest & most rigid of the three materials with specialty grades such as cutting board, HDPE is a cheap, versatile option.
Key Benefits
HMWPE PE500 is lightweight & durable, doesn't absorb water & is a good electrical insulator. It offers superior wear resistance & high impact strength when compared to HDPE. HMWPE has excellent non-stick properties at a cheaper price point than UHMWPE. Widely used in mechanical, electrical and chemical industries. FDA & EU10/2011 food grade compliant materials are available for applications that demand it.
Applications
With good machinability, HMWPE PE500 is able to be machined into a range of custom parts. HMWPE is suitable for a range of applications such as bin liners, sprockets, FDA parts, wear pads, chutes, scrapers, machined parts, star wheels, table tops, guides & fixtures, food preparation boards and many more.
HMWPE PE500 Range
Product Type
Industry Applications
Available Products & Notes
HMWPE PE500
Cutting Boards for Meat & Fish
Machine Parts for Food Industry
Food Industry
Gears & Rollers
Impact Strips
Foodstuff Moulds
Guides & Fixtures
Protection Strips
Butchers Blocks
Dough Scrapers
Electrical Insulators
Plus many more
Sheet

---
Whatever you're
engineering, we can help
Our technical solutions specialists are only a phone call away