Metal Detectable Plastics / UHMWPE
Ensuring plastic fragments do not enter food products during manufacture is a key part of the food production process.
Using blue metal detectable plastic cable ties, measuring cups, scoops and pens is common place in the food industry to help avoid accidental food contamination.
Supply Services Limited provides the same metal detectable options in custom made components for any parts at risk of accidental damage or fracture.
These metal detectable plastics are both FDA and EU direct food contact compliant materials.
In this particular case we are using a high wear grade blue metal detectable UHMWPE with a molecular weight of 9,000,000 g / mol instead of the standard 5,000,000 g / mol.
The below picture shows one of our many metal detectable UHMWPE stock shapes. This material was selected for the customer based off their application requirements.
Metal detectable UHMWPE materials in the food processing industry
Polymer plastics, either thermosets or thermoplastics can be manufactured to be metal detectable with the addition of additives at the production phase.
This is achieved by the additives making the plastic material conductive so that both metal detectors and x-ray equipment positioned on food processing lines can detect fragments of plastic materials.
Like most metal detectable plastics, metal detectable UHMWPE is blue, which also offers the benefit of being optically detectable which provides another layer of protection allowing production line workers to visually detect contamination.
Engineering plastics like our metal detectable UHWMPE materials are becoming indispensable in the food production industry within New Zealand, increasing and improving food safety.
Supply Services Limited offers a wide range of metal detectable materials from leading worldwide suppliers such as Ensinger Plastics.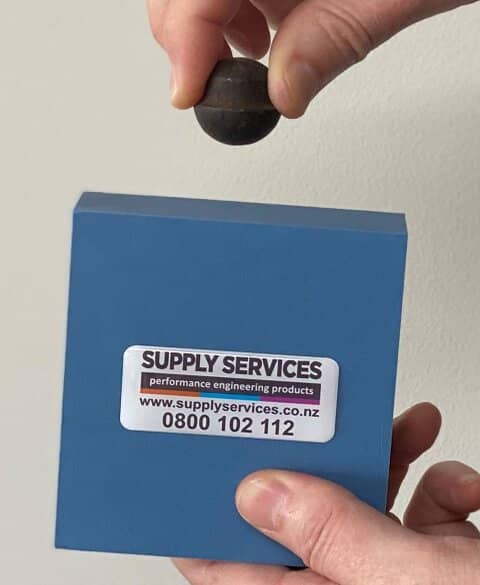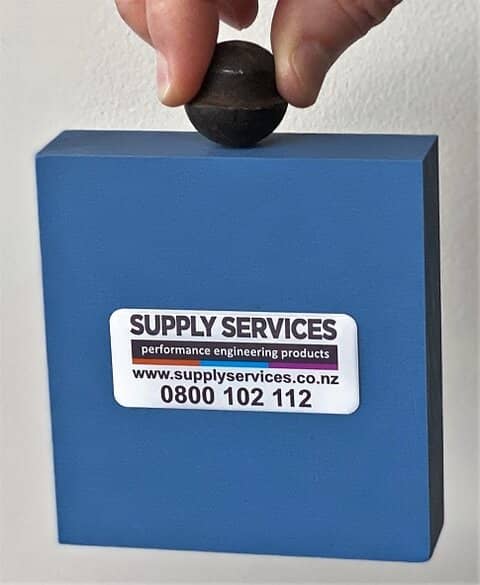 Customers finished components, assembled, ready to roll…
The below image shows the finished machined components that our customer has implemented into one aspect of their food production line.
Supply Services Limited machined the metal detectable UHMWPE plastic material into the finished requirements and assembled the parts before sending to the customers site.
They have protected their brand reputation further with increased detectability from plastic contamination.
Not only does this food producer have security that any broken parts from accidental edge damage will be picked up by the metal detector, parts will also have improved wear life due to…
The higher wear grade
Very good sliding properties
Excellent shock and impact resistance
Good anti-adhesion properties
Food grade certification
A win-win in any ones book.
Bit of secret sauce here – we can't say who or what these are used for, but the customer was very happy with the outcome.
Is metal detectable UHMWPE food safety approved?
Metal detectable UHMWPE materials are certified for direct food contact to FDA and EU10/2011 standards.
EU10/2011 covers food simulant testing against Ethanol (hydrophilic foods), Acetic acid (acidic foods) and Sunflower or olive oil (fatty foods) to ensure all the base food groups are covered.
Supply Services Limited offers food conformity certificates and these must be requested at time of order placement.
What colours are detectable plastics available in?
Most of these materials that are either metal detectable or x-ray detectable are blue.
Why blue?
Very few foods are naturally blue, this allows the plastics to not only be metal and x-ray detectable, but optically detectable as well.
What is the temperate range of metal detectable UHMWPE thermoplastics?
Metal detectable UHMWPE materials generally speaking can operate at 100°C long term, and up to 120°C short term.
We offer a range of metal detectable plastics that all offer different properties to suit a vast array of application requirements.
Our broad range allows us to offer materials that can operate at temperatures from -269°C to +260°C, including metal detectable engineering nylons, acetals, PEEKs and PTFEs to name a few.
Learn more about our products today and how we can help you
Take a look at these blogs about our range of products and engineering plastic materials.
Contact us today with your enquiry
We offer nationwide sales, material identification and selection services, custom CAD design and full CNC machining prototype and production services.
Supply Services Limited has deep connections with the world's leading manufacturers that we call on when you come to us with a highly technical application.
If you are looking for plastic components that need to be produced to an exceptionally high standard, contact us today, we pride ourselves on being the leading engineering plastic machinists in New Zealand.
We have decades of experience and you get to reap the benefits of this. Contact our team of technical solutions specialists today.
Nationwide toll free 0800 102 112.
Click the links below for the contact details of your closest branch.