The customer's problem
A pharmaceutical manufacturer in New Zealand had an issue they could not resolve in-house.
How to identify and sort a small number of uncrowned or cracked (reject) tablets from the millions they produce for one of their customers.
Their customer required a zero percent reject rate solution, meaning they should be supplied with zero reject tablets.
Literally trying to a find a needle in a hay stack. They required a bespoke solution.
Consultation with our technical manager of performance plastics
After consultation with the customer's pharmaceutical engineering team and our Technical Manager of Performance Plastics, Mark Brown, some initial testing was undertaken and a clever solution to the problem was tabled.
A pharmaceutical tablet sorter chute. Designed and manufactured from our range of high-quality engineering plastics.
The chute has intricate machining on the inside to filter the tablets as they pass though. Smart idea.
Mark Brown
Technical Manager – Performance Plastics
Supply Services Limited, New Zealand
Mark has been in the plastics industry for over 20 years, opening the Auckland branch for Supply Services in 2010.
In this time he has managed machine shops, plastic machining, CNC programming, technical design, technical sales and product development.
Mark has a passion for high performance engineering plastics that continues to grow to this day.
He has worked with some of NZ's plastic industry leaders, drawing off their vast knowledge, enabling him to design bespoke solutions for a wide range of industrial and commercial sectors.
"I love seeing my team members learn and evolve. With engineering plastics we can see ideas and concepts develop and grow into functioning products. Very satisfying for anyone in the engineering field."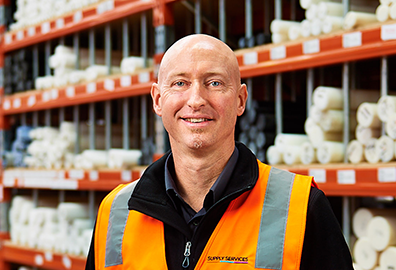 The customer's requirements
As our customer is a pharmaceutical manufacturer, Supply Services were required to meet specific requirements, of which we achieved all.
✔️ The pharmaceutical tablet sorter chute had to be lightweight.
✔️ It needed to be removable when not required.
✔️ It required the ability to withstand constant vibration.
✔️The known cleaning chemicals would not affect, impact or degrade the engineering plastics.
✔️ The engineering plastics required a low coefficient of friction so the tablets would slide.
✔️ All materials needed to be food contact approved.
✔️ Food grade certificates would be required to confirm the engineering plastics are FDA and EU10/2011 approved.
What engineering plastics were used and why?
The pharmaceutical tablet sorter chute utilised two types of engineering plastics.
Virgin UHMWPE
Virgin UHMWPE was selected for the main chute body as it is lightweight, food contact approved, has amazing chemical resistance, and a low coefficient of friction – making it very slippery.
Being a non-notch sensitive material makes it readily machined and won't easily crack from sharp corners.
You can read about our extensive range of UHWMPE rod, tube, sheet, wear strips and profiles or UHMWPE sheet for NZ industry by clicking the links.
Acetal POM-C
Acetal POM-C was used for the internal components as this engineering plastic material is stable and rigid, and was required for the fine adjustments.
Due to its exceptional creep resistance, strength, rigidity and toughness, Acetal was an excellent material of choice for parts such as this that require high dimension stability.
To read more about our range of Acetal POM-C take a look at our product page, or this recent blog post about Acetal plastic, rod, tube and sheet for engineering.
304 Stainless Steel
304 stainless steel was selected as it typically is more affordable than 316. It was determined that the chemical corrosion resistance of 304 met the application requirements for the chute fitting components.
The finished pharmaceutical tablet sorter chute
Supply Services Limited looked after the entire process from initial consultation, to design and manufacture.
We also supplied food grade certification for the engineering plastic materials and additionally installed and tested the chute in production.
After a little fine turning the unit worked like a charm ending up with one very happy customer.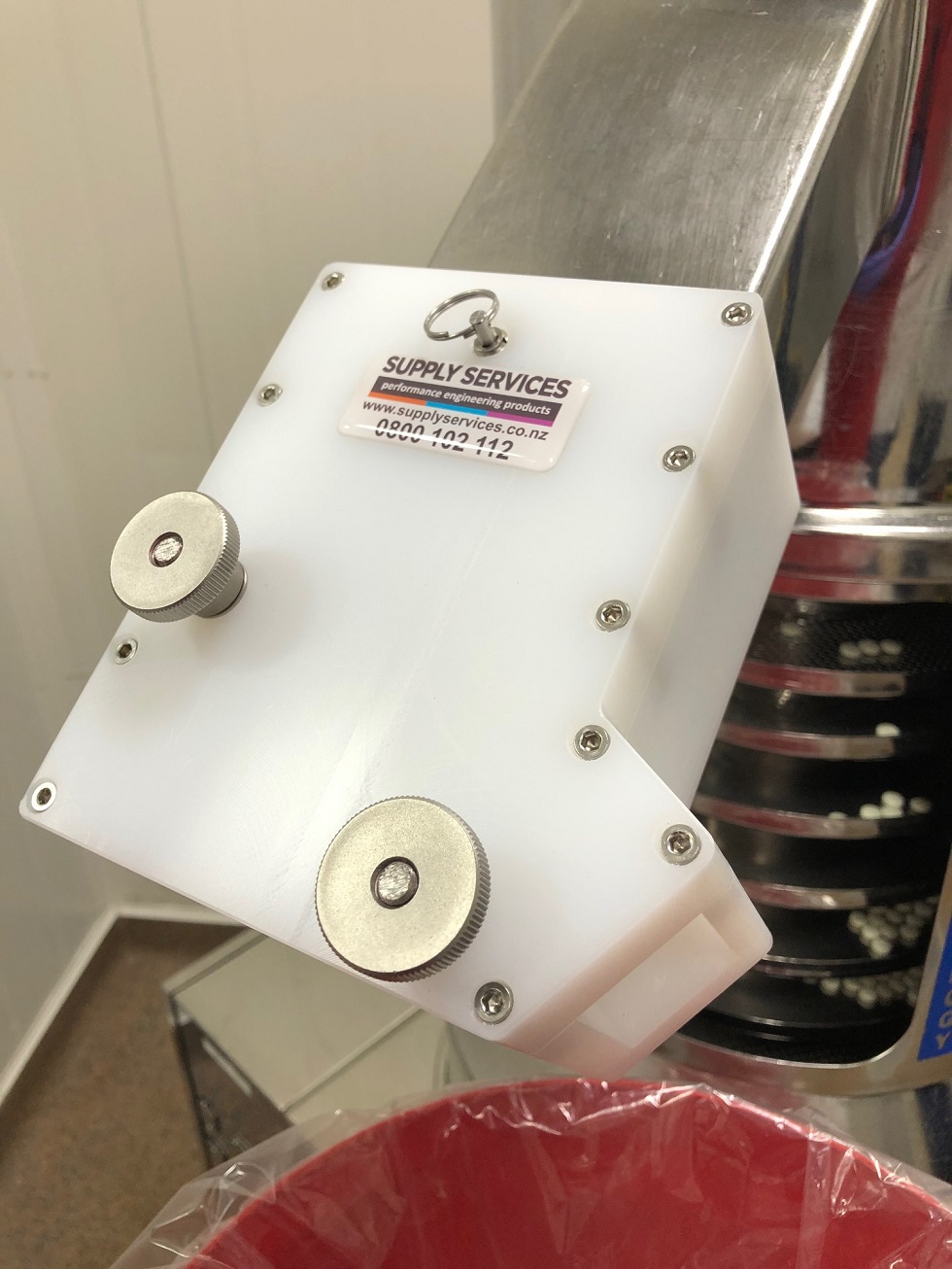 These recent blogs may be of interest to you
Plastics for the food and beverage industries
High-performance food grade plastics for the NZ Food and Beverage industries. Vital in improving efficiency, safety and competitive standing.
Engineering Plastics
Engineering plastics, engineering plastic products and industrial composites in rod, tube and sheet to keep NZ industry moving.
Shadow Boards
Shadow Boards designed and tailored to meet your exact working requirements. Gain workplace efficiency with 5S.
PTFE supplier of rod, tube, sheet, tape & film
NZ based PTFE supplier of high-quality finished and semi-finished PTFE Teflon products from Guarniflon® S.p.A, Italy. Your choice for premium fluorobased products.
Engineering Plastics Properties Chart
Common engineering plastic properties chart for engineers. Print one out.
Contact one of our technical solutions specialists today to discuss your application
We offer full service from start to finish with branches located in Auckland, Mount Maunganui and Christchurch.
All three of our nationwide branches offer CAD design, manual and CNC machining services.
We are fully stocked with engineering plastics, chains, sprockets and associated parts.
No matter where you are in the country, we have the people and the know-how to help you out.
Click your closest location for more information.