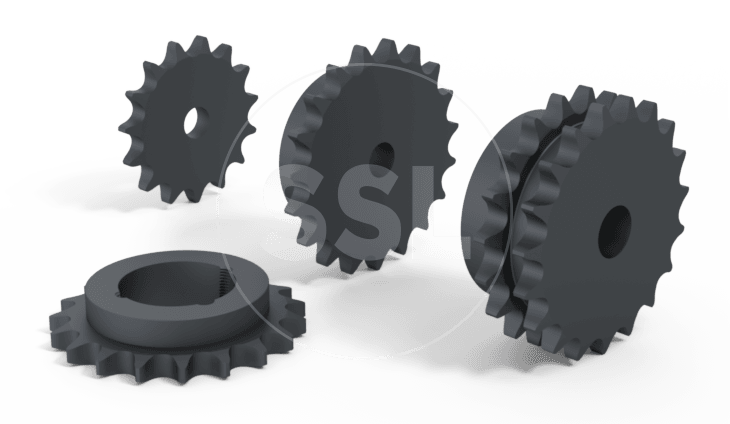 ​BS & ANSI precision roller chain sprockets can be supplied with teeth that are flame heat treated, case hardened, induction hardened or not hardened at all. The surface finish can be plain, painted, zinc plated or black passivated for protection. All our off-the-shelf sprockets have induction hardened teeth.
Large range of the most commonly used simplex, duplex & triplex sprockets
Induction hardened teeth by default on all off-the-shelf sprockets
Custom design, fabrication, welding & machining services available
​Tooth Count​
5+  upwards​
Styles
Simplex, Duplex & Triplex
Types
British or American Standard
​Induction Hardened Teeth
​All our off-the-shelf roller chain sprockets as standard have induction hardened teeth to provide a longer service life. We also offer sprockets with flame, case or though heat treatments. Your application & environment will dictate your requirements.
​Styles
​We carry a large range of the most commonly used roller chain sprockets in BS & ANSI, but also manufacture and import sprockets from various international suppliers to meet our clients requirements. Our stock range includes simplex, duplex & triplex sprockets. We can also supply quadplex to decuplex sprockets.
​Special Materials​
​We can source sprockets manufactured from non-standard materials such as various grades of stainless steels or heat treated plate. Due to our specialisation in engineering plastics we can also design & machine sprockets from materials such as nylons, acetals, UHMW-PE, polyurethanes & composite materials.​
​Machining Services​​​
​​We offer a full range of in-house services such as profile cutting, welding, CNC machining & manual machining. We can customise your roller chain sprockets to your final fitting requirements and offer full boss, bore & keying services.​​
Stock Holding
We have a wide range of off-the-shelf roller chain sprockets available ready for immediate dispatch to your site. Simplex, duplex & triplex in a variety of tooth counts.
​3rd Party Logistics
​We securely stock your roller chain sprockets at our premises, customised & machined if required, keeping the agreed stock levels & delivering on-demand to your site.​​ 
Sprocket Range
BS & ANSI roller chain sprockets available in a range of tooth counts, boss types & key ways.
Simplex, Duplex & Triplex with specials on request.
Pitch Size
(inches)
British Standard (BS)
American Standard (ANSI)
1/4"
04B
ANSI 25
5/16"
05B
-
3/8"
06B
ANSI 35
1/2"
08B
ANSI 40
5/8"
10B
ANSI 50
3/4"
12B
ANSI 60
1"
16B
ANSI 80
1 1/4"
20B
ANSI 100
1 1/2"
24B
ANSI 120
1 3/4"
28B
ANSI 140
2"
32B
ANSI 160
2 1/4"
-
ANSI 180
2 1/2"
40B
ANSI 200
3"
48B
ANSI 240
---
Whatever you're
engineering, we can help
Our technical solutions specialists are only a phone call away