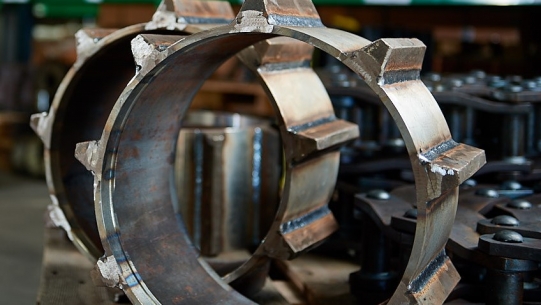 Sprockets for New Zealand Industry
Sprockets and plate wheels to suit every industry in New Zealand. Off the shelf, imported or custom fabricated to your exact requirements. In other words, we are your one-stop shop.
Available from 3/8″ to over 8.0″ pitch in various steels and specialty plastics with configurations to suit our wide range of quality roller and conveyor chains.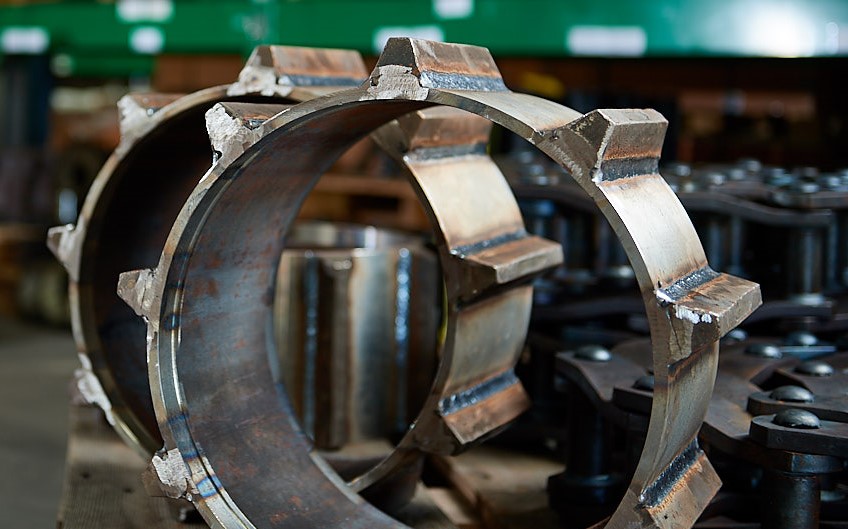 What do we supply to NZ industry?
Our range of standard and non-standard sprockets and plate wheels cover the following styles of chain:
✔️ Roller
✔️ Conveyor
✔️ Mill & Drag
✔️ Wood Processing
✔️ Engineering Class
✔️ Industrial
✔️ Long Link
✔️ Plastic
✔️ Bottling and packaging
✔️ We can fabricate to your exact chain requirements!
We offer nationwide service, that is fast and reliant.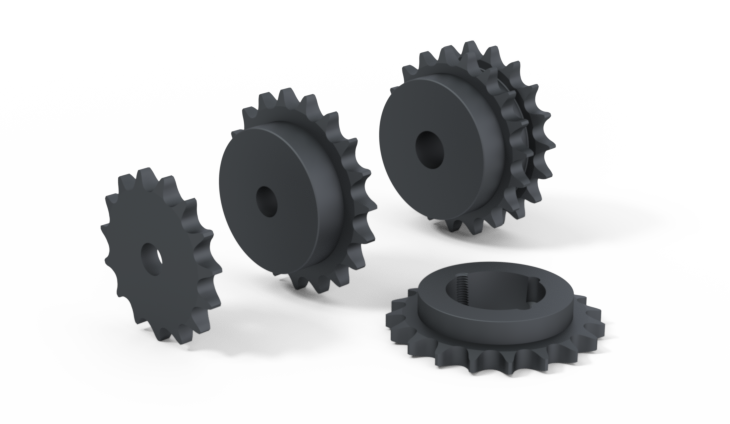 Sprockets to suit American and British standard roller chains
BS & ASA ANSI precision roller chain sprockets can be supplied with teeth that are flame heat treated, case hardened, induction hardened or not hardened at all. The surface finish for example can be plain, painted, zinc plated or black passivated for protection. Most importantly, all stocked sprockets have induction hardened (IH) teeth by default. Available in a range of tooth counts, boss types & keyways. Simplex, duplex & triplex with specials on request.
Large range of the most commonly used simplex, duplex & triplex
All NZ stocked sprockets have IH teeth
Custom design, fabrication, welding & machining services available
Tooth count from 5+ upwards
A, B or C style boss available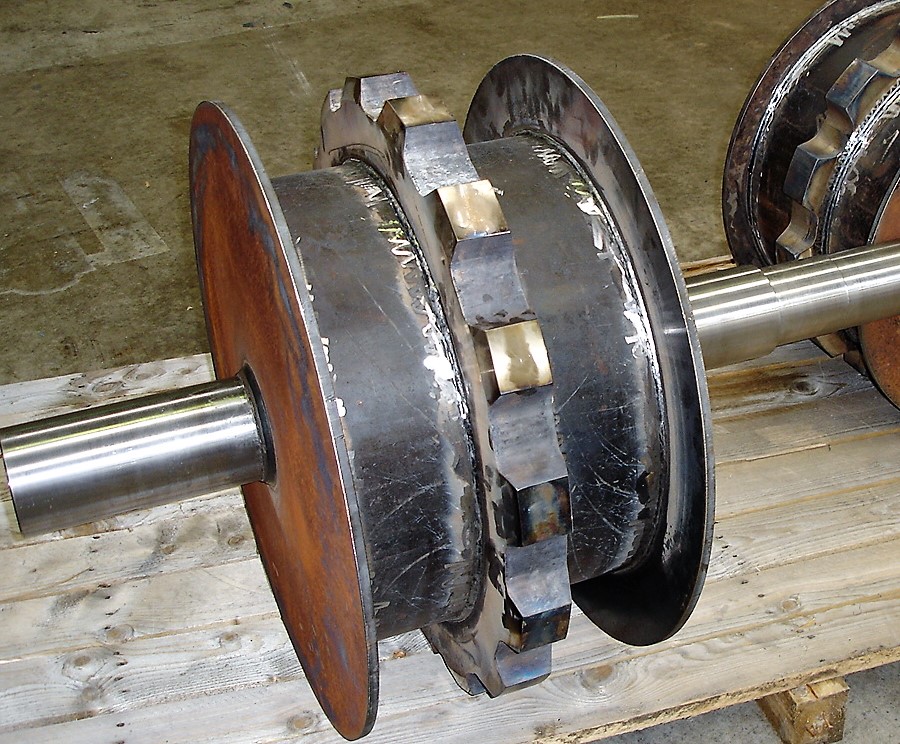 Sprockets to suit our huge range of conveyor chains. Profile matched for perfect fit
We stock and fabricate plate wheels and conveyor chain sprockets in standard & non-standard configurations from materials such as mild steel,  Hardox 400 abrasion resistant plate, induction hardened C1045 & specialist plastics. Accurately cut profiles to match the chain, attachments and the application requirements for long-service life.
Short lead times from order to delivery
Selection of materials to suit your application
Full machining & welding services available
Tooth count from 5 to 25
Low, standard or high tooth profiles
A plates, B or C style boss available
Read about CAN-AM Fabricated Steel Sprockets.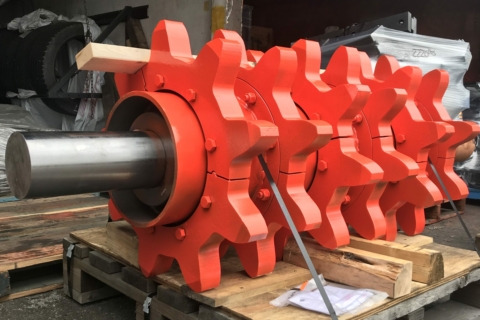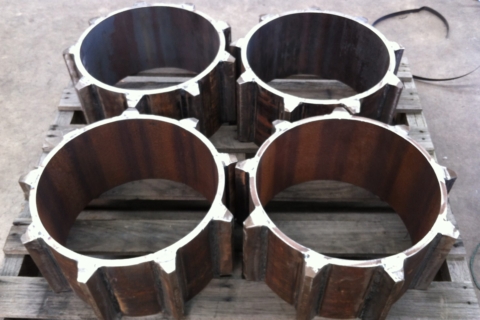 Drag chain sprockets with full length teeth to promote longer service life
Our drag chain sprockets come with CAN-AM Chains full width cast teeth to accurately match the drag chain barrel profile which is really important. Sprockets vary in overall diameter & the number of teeth. Drag chain runs best on "drums" or "cans" with full width through hardened teeth that are welded to the drum. We also offer twin A-plate or "plate" style drag chain sprockets as an alternative design.
Full width cast steel heat treated teeth to certainly extend your chain service life
Selection of wide tooth drums or paired plate style drums
Single, double, triple or to suite your application requirements
Tooth count from 6 to 13 or custom
Mild steel or Hardox 400 drum material
Standard, flanged or multiple flanged
2.609" pitch universal sprockets to suit the most common industrial chains ready for immediate delivery now
Universal sprockets are pre-fabricated and stocked on the shelves ready for immediate dispatch to your site. They are unique in that they universally fit a range of 2.609″ pitch conveyor chains. Profile cut from AISI 1045 plate with induction hardened teeth by default, these universal conveyor chain sprockets come standard as A-Plates, B or C Boss or split type.
Universal to suit a range of 2.609″ pitch conveyor chains
Increased service life due to custom induction hardened teeth
A range of options & machining services available
Tooth count from 8 to 16
Standard height or chamfered tooth profiles
A Plates, B Boss, C Boss or Split​ for bolting
Polymer split sprockets for quick installation and reduced costs
Our polymer split sprockets are manufactured from Northane 75D polyurethane to enhance load capabilities & wear resistance. Available in split type configuration for ease of installation, these are lightweight and long lasting. Above all they are quiet and half the cost of a split steel sprocket. A range of tooth counts & accessories are available.
Universal
Manufactured from super strong Northane 75D polyurethane
Split for easy installation & replacement
Tooth count in 9, 12, 13 and 14 available
A range of ZA12 keyed drive or idler inserts
To suit metric or imperial shafts
C Boss or Split​ for bolting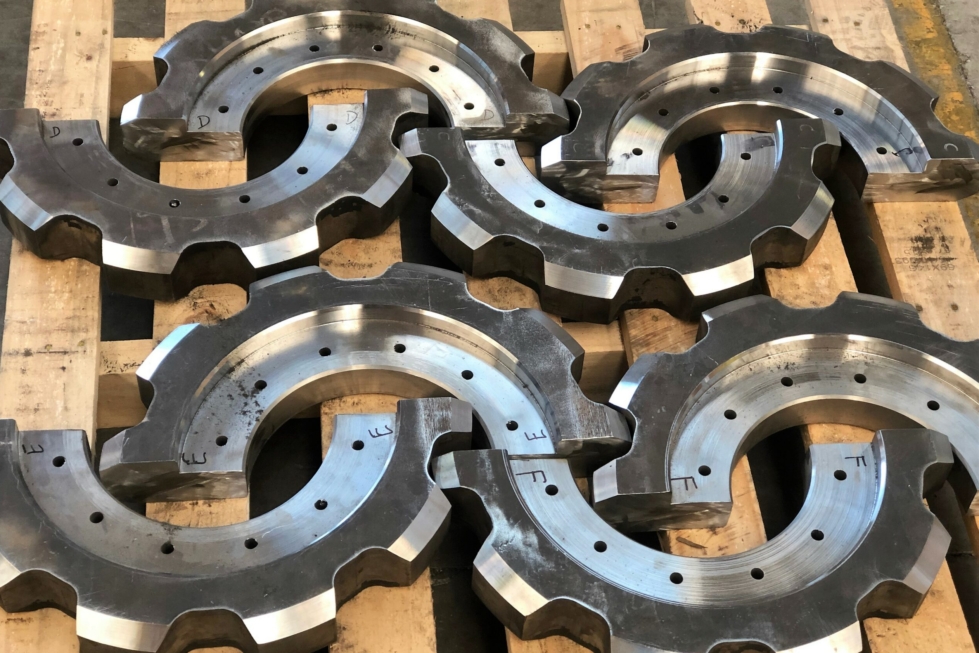 Steel split sprockets for ease of installation and reduced maintenance windows
Split sprockets are the ideal sprocket especially in areas of limited working space. They are simple and easy to assemble in hard to get areas. Our range suits conveyor and wood processing chains allowing for the sprocket to be assembled without having to dismount the shaft assembly.
Conveyor chain sprockets can weigh hundreds of kilograms and are difficult to handle and install. Consequently, cranes are often required to lift the sprockets into place for installation. This is where split sprockets and bolt on segmented teeth come into their own. We have clients who no longer require a crane for installation as the split sprocket being in two halves can now be man-handled for installation.
Profile cut and machined as one whole unit before being split to ensure a perfect match
B and C type boss styles, but we recommend C type
Light weight, segmented teeth sections can be bolted on to a fixed or split hub, for quick and easy change out
Can be fabricated from Mild steel, Hardox 400, induction hardened C1045 , stainless steel, polyurethane, nylons, UHMWPE, Acetals and composites
Fully customise your sprockets to suit your application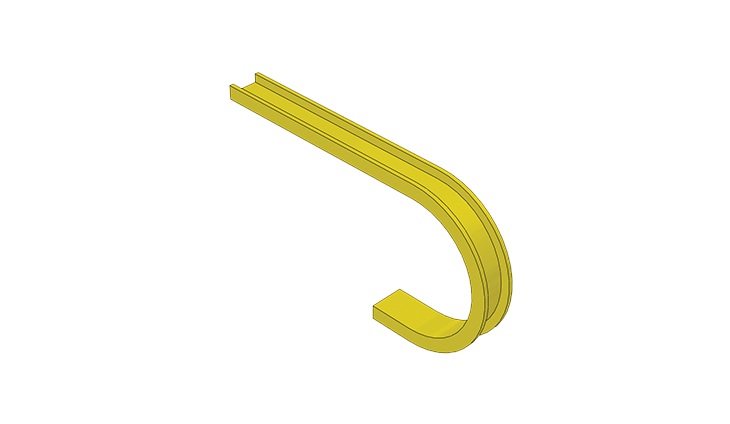 Chanex® Oregon Bends, excellent low-cost idler replacements for 2.609" pitch chains
​Chanex® Oregon Bends are formed into a radius & fastened in place. Available in a range of widths to suit smaller chains such as C2060 to larger chains such as 81X, WH78 & H78. True-Track options are available to centrally guide the chain for scanning applications and improve the life cycle. The perfect, simple solution.
Reduce idler sprocket replacement costs
Manufactured from the world's strongest polymer UHMWPE
Extend chain life due to less chain wear
Tru-Track options for optimal chain tracking and supports roller, barrel and side plates at the same time
Quieter site operation due to reduced noise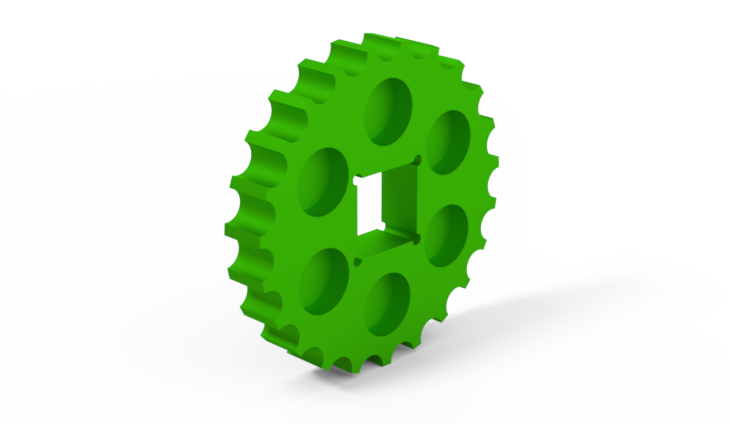 Plastic bottling and packaging chain sprockets
The range of plastic sprockets for the bottling & packaging industry is nearly endless. We are able to supply a wide range of products in different materials from quality international suppliers to suit straight, side flexing, multi flexing & modular belting. Additionally, we have the CAD & CNC capabilities to custom manufacture your plastic sprockets.
Plastic drive and idlers from a range of suppliers to suit all types of bottling & packaging chains
Available in a range of engineering plastic materials to suit the application environment
Solid or split type
Custom design & reverse engineering service available
Custom designed and fabricated to suit every type of industrial chain in New Zealand
To sum up, we are able to design, fabricate or import sprockets and plates to suit any type of chain used in NZ.
Contact our team to discuss your application requirements, design your sprocket and then bring them to life.
If we don't have it, we source worldwide for your convenience.
Why is it recommended to replace your sprockets and chain at the same time?
If you replace your new chain on worn sprockets all you are going to do is cause premature wear on your new chain.
Very quickly you will find you are replacing that new chain and often will see wear in the same places over the length of the chain.
To get the best out of new chain, make sure your sprockets are aligned correctly and you are using quality wear strip.
New chain should always be run on new sprockets. Even if the sprockets are only slightly out of pitch, or have the smallest of "hook" to the teeth, these sprockets will dramatically reduce chain service life.
What is the difference between a gear and a sprocket?
Well, the principle is the same being to transmit torque to somewhere.
Both are used for power transmission. You cannot have slippage with gears or sprockets. If you need slippage, you would use pulleys.
Gears have machined grooves that mesh together perfectly when rotated. Being meshed together they are called gears.
Sprockets have teeth that fit into the links of chain. Being connected via a chain, they are called sprockets.
Did you know that on both the only difference is the cogs? Cogs are the teeth on a sprocket or the machined grooves on a gear.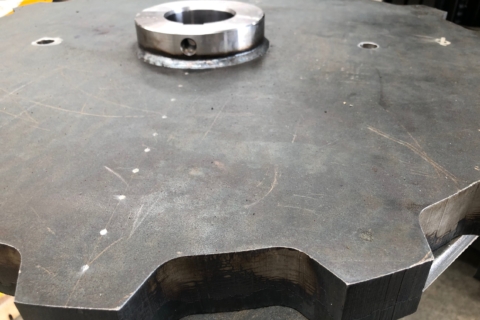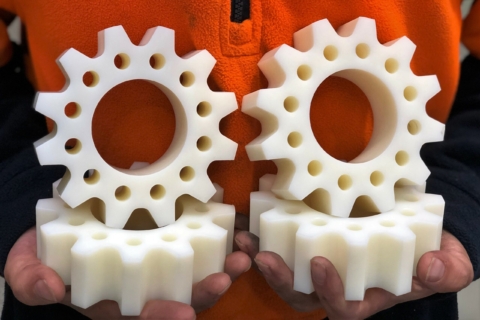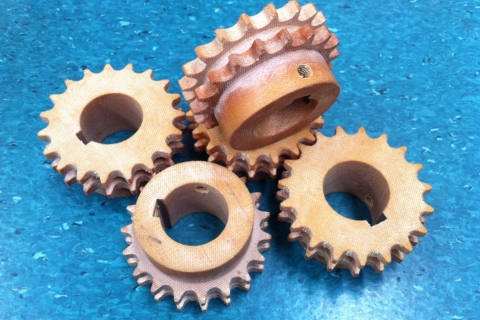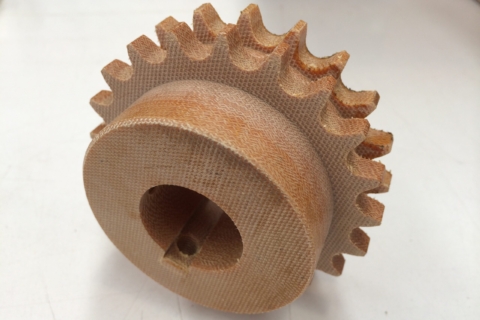 Download our latest chain and sprockets brochure