If you are looking for the leading NZ sprocket supplier, then call us today. We have hundreds of sprockets on the shelf to suit roller and conveyor chains. We import and in-house manufacture sprockets to suit your custom requirements.
If you only want to buy chain, but you are constantly bombarded with the line "you should replace your sprockets too", we can explain why. This isn't a sales pitch, this is decades of experience that we try and impart onto our customers. Many a time this advice is not taken, only for the customer to complain down the track that their new chain is starting to rapidly wear.
Without replacing your sprockets, all you are going to do is cause premature wear on your new chain. Very quickly you will find you are replacing that new chain and often will see wear in the same places over the length of the chain.
New chain should always be run on new sprockets. To get the best out of new chain, make sure your sprockets are aligned correctly and you are using quality wear strip. Even if the sprockets are only slightly out of pitch or have the smallest of "hook" to the teeth, these sprockets will dramatically reduce chain service life.
Our NZ sprocket service covers the entire country. Contact us today with your sprocket enquiry. Toll free 0800 102 112, or read more about the types of sprockets we stock below.
Roller Chain Sprockets
We stock a large range of roller chain sprockets in simplex, duplex, and triplex strand widths to suit both British Standard (BS) and American Standard (ASA/ANSI) roller chains. BS & ANSI roller chain sprockets are available in a range of tooth counts, boss types & keyways. Simplex, Duplex & Triplex with specials on request. ANSI and BS precision roller chain sprockets can be supplied with teeth that are flame heat treated, case hardened, induction hardened or not hardened at all. The surface finish can be plain, painted, zinc plated or black passivated.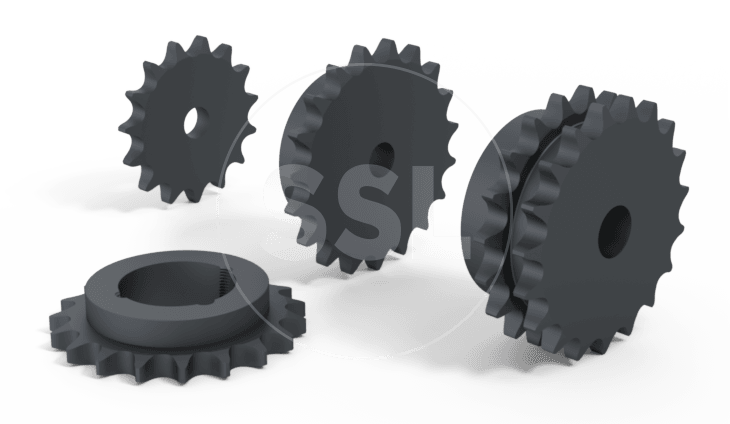 Conveyor Chain Sprockets
Supply services stock chain sprockets in standard & non-standard configurations from materials such as mild steel, Hardox 400 abrasion resistant plate, induction hardened C1045 & specialist plastics, as well as solid & split type sprockets. All our sprockets have accurately cut profiles to match the chain, attachments, and the application requirements for long-service life.
We have short delivery times, and a full selection of materials. If we don't have exactly what you need, we have machining and welding services available to customise your sprocket.
Our conveyor chain sprockets cover 78, 82, 111, 124, 132, 150, 157 WR/WH/WRC, XHD and IBR series chains.
Conveyor chain sprockets for NZ.
Download our conveyor chain sprocket information guide.
Take a look at one of our North American suppliers; CAN-AM chains sprocket brochure.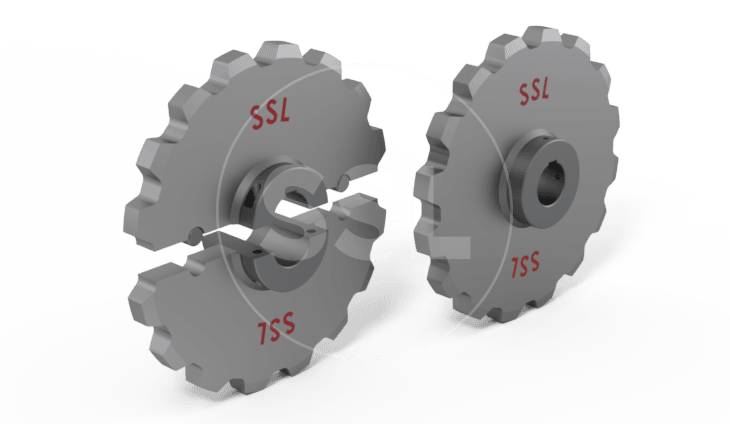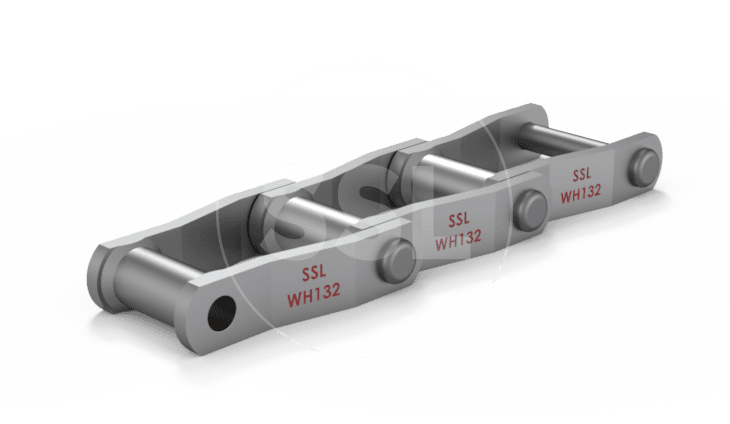 Drag Chain Sprockets
Welded steel drag chain runs best on full width "drum" or "can" type sprockets. We stock drums and through hardened, full length, profiled teeth ready for sprocket manufacture. Full width teeth promote longer service life. All sprockets can be fabricated to suit your individual requirements.
Tooth count & profiles, flanges, bosses, bores, taper locks, key-ways & set screws for both drive & idler sprockets.
Download our drag chain sprocket information guide.
A range of drag chain sprockets are available and the below list is a sample of common sizes.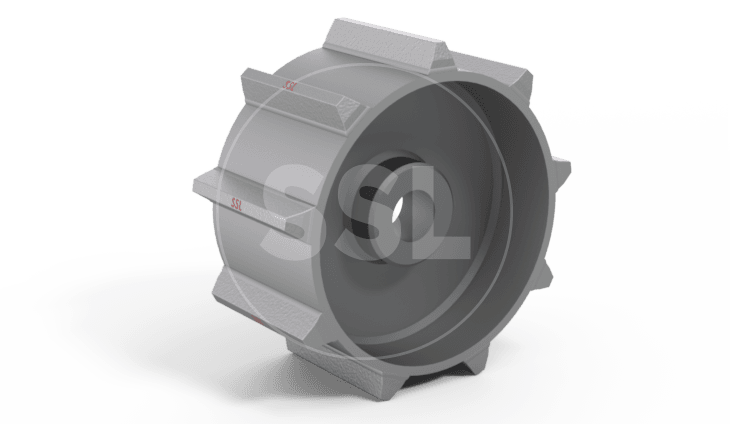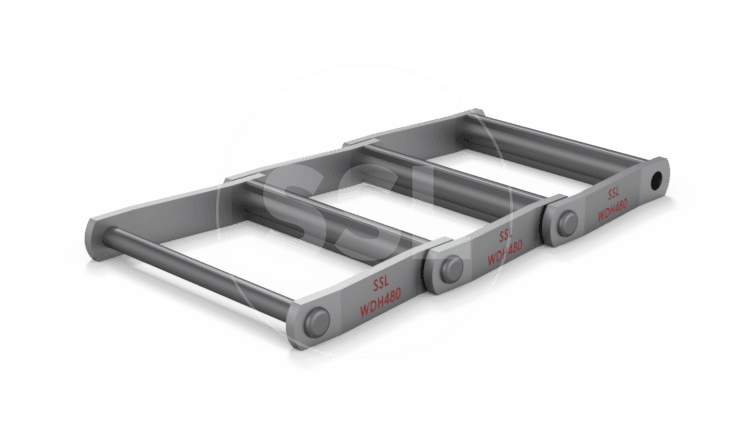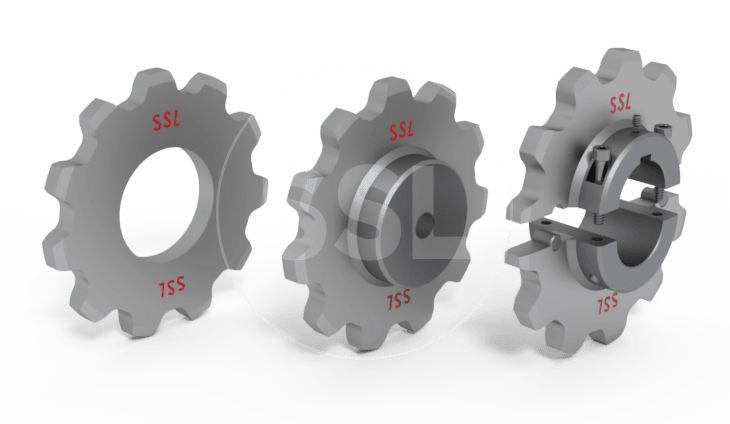 2.609″ Pitch Polymer Sprockets
Available in split type configuration for ease of installation, these polymer sprockets are lightweight, long lasting, quiet & half the cost of a split steel sprocket.
Polymer sprockets manufactured from super strong Northane 75D polyurethane to suit a range of 2.609″ pitch conveyor chains such as 81X, WH78, LXS882, C188 & H78.
We stock these sprockets in 9, 12, 13 & 14 tooth counts with drive hubs and replaceable bearing inserts for a variety of shaft sizes.
The full range of 2.609″ polymer sprockets & associated components are stocked in NZ and ready to be shipped to your site. Our split poly sprockets along with our metal uni-sprockets are two of the most popular sprocket types we supply.
2.609″ pitch polymer sprockets for NZ.
Download our information sheet on 2.609″ pitch polymer sprockets.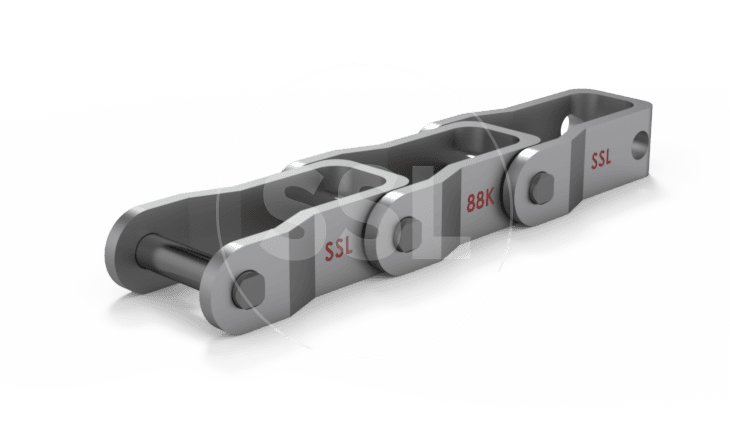 Chanex® Oregon Bends (perfect for idler sprocket replacements)
Oregon bends formed from UHMWPE Chanex® profiles are excellent low-cost alternatives to sprockets on the bottom of board singulators. Various sizes are available for C2060 chains to 81X, WR/WH78 and H78 series chains.
Chanex® Oregon Bends reduce idler sprocket replacement costs, extend chain life and offer quieter site operation due to reduced noise. A range of ​Chanex® Oregon Bends are available. We stock the most common sizes with regular international shipments bringing non-standard sizes for our customers. Custom sizes can be made by us locally in NZ
Download our information sheet on our Chanex® Oregon Bends/Chain Guides.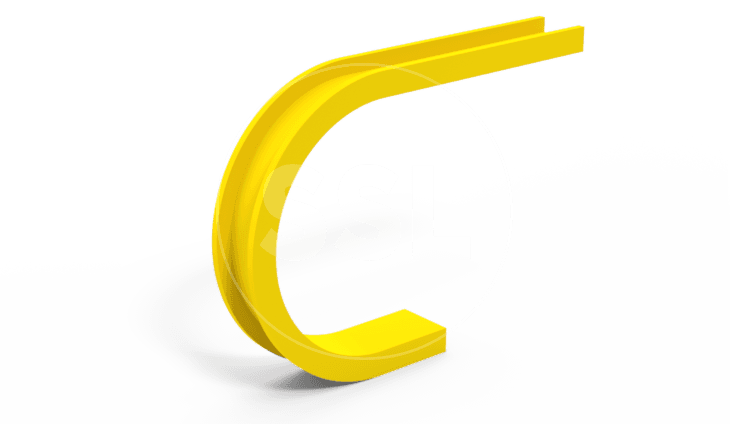 Plastic Bottling & Packaging Sprockets
We can supply or manufacture a range of plastic sprockets to suit a variety of flat top & multi-flex bottling & packaging chains, as well as having CAD & CNC capabilities to custom manufacture your plastic sprockets. Available in a range of materials to suit the application environment. Solid or split type configurations. Drive and idler wheels.
Did you know?
Supply Services Limited is one of the largest sprocket suppliers in NZ. We can design, fabricate, or import sprockets and plates to suit any type of chain used in New Zealand. Contact our team to discuss your application requirements, design your sprockets, and then bring them to life. If we don't have it, we source worldwide for your convenience from our extensive array of international suppliers. We offer a complete range of engineering services. Full service, from start to finish. Check out a recent blog post about Sprockets for New Zealand Industry.