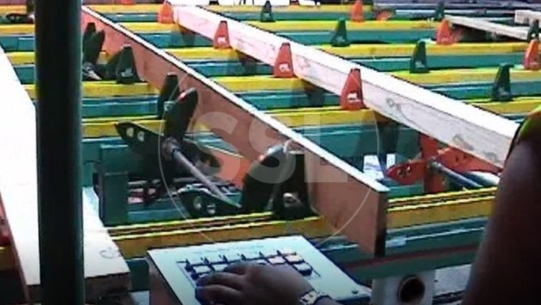 Shark Fin™ Board Turning Systems – General Overview
Since 2002, Supply Services Limited has been the exclusive Australasian distributor of the North American manufactured Shark Fin™ Board Turning System.
Our first New Zealand installation was to Pan Pac Forest Products in 2003. Since then we have completed 14 Shark Fin™ installations in New Zealand and 2 in Australia. This comprises of 12 Green Mills, and 4 Dry Mills.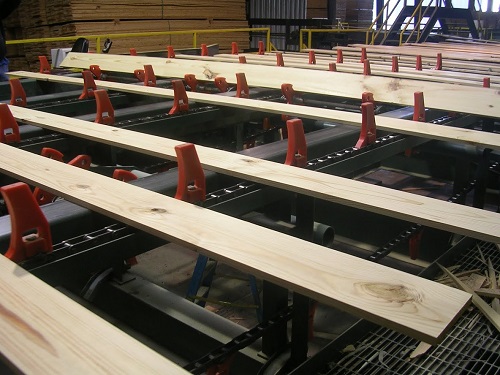 What does the Shark Fin™ Board Turning System do exactly?
Shark Fin™ is designed to have singulated boards put onto lugs on the grading table and automatically turn the boards over in front of each grader.
This is a "no touch" system except where the grader is required to physically put a crayon mark on each board.
Shark Fin™ is a totally non-mechanical board turning system not driven by gears, chains, belts or anything else.
This system is inertia driven where the board helps to turn itself as it is pushed along the line by the lugs.
Watch the below video to see the general operation of the Shark Fin™ Board Turning System from one of our New Zealand installations.
This install is for a green mill, full system, double station, push button grading. Star turners on a PLC controlled pop-up system. 12 pitch lug spacing. Board sizes up to 75mm thick, up to 450mm wide x 6100mm long. Fixed lug speed of 30/lpm (78/fpm) but can run up to 60/lpm.
What are the benefits to the Grader?
Shark Fin™ turns the boards for you and it is ergonomically correct. Then it gives the board back to you.
You can concentrate on grading instead of material handling. However, you can still touch the board throughout the turn if you wish.
✅ Pains in your wrists, elbows, shoulders and back should lessen immediately.
✅ Stay in your job longer with fewer health problems and finish each shift with more energy.
✅ Sit, stand or walk to grade.
✅ You can always touch the board if you want to and you have the opportunity to turn the board to re-grade as necessary.
✅ Your job is to grade lumber as accurately as possible. We hope Shark Fin™ makes this job easier for you.
Watch the short video below to see a Grader manually turning squares the last 90 degrees.
What are the benefits to the Mill?
✅ Reduced Grader Injuries and lost man days. Some firms have recouped the costs for their Shark Fin™ Systems within 3 months.
✅ Board Damage from marks, oil or grease are reduced with double pulp safe polyurethane lugs and turners.
✅ Organise your grading table simply, inexpensively and with greatly reduced maintenance.
✅ Happier, healthier Graders will contribute more to the mills bottom line.
General Operation
✅ No restriction on the width, thickness or length of boards.
✅ Lug spacing is set slightly wider than your widest board.
✅ Minimum grader spacing is 4ft but can be less in some circumstances.
✅ No restrictions imposed by this system on the Graders.
Watch the full playlist of Shark Fin™ operational videos here.
Shark Fin™ Systems and Associated Parts
Supply Services Limited can help assist your engineering and maintenance teams with the design of your Shark Fin™ system.
We often deal directly with your preferred OEM.
Your system is then imported into New Zealand on one of our regular sea freight shipments from Canada. We stock locally in New Zealand Shark Fin™ Stars and Turning Lugs.
Shark Fin™ is quick to install, has proven to reduce and eliminate injury and return injured graders to productive work.
Manual lumber grading is about people, their physical and mental ability to make split-second, accurate decisions with no tolerance for error.
Why submit your highly trained and skilled graders to board handling when they are paid to grade lumber, not turn it?
Shark Fin™ Automatic Board Turning Systems are inertia driven and designed to fit on existing, lugged grader chain tables.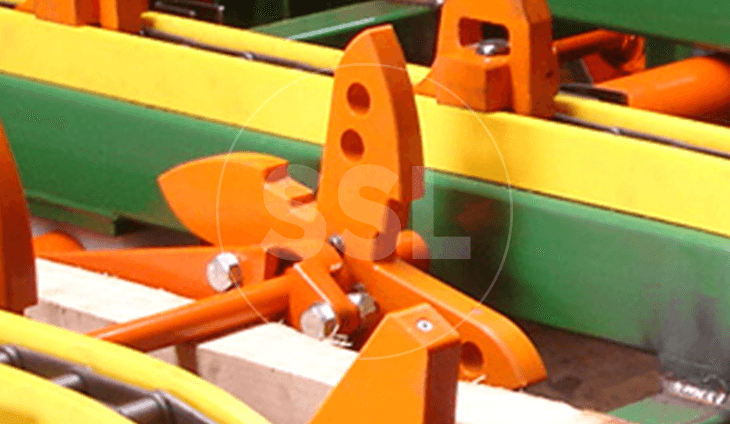 Contact Supply Services Limited today to discuss your Shark Fin™ requirements
Looking for Roller Chain or Conveyor Chain Sprockets?
We are one of the largest suppliers of sprockets in New Zealand.
Take a look at this recent blog post about our sprocket services.
Does your site use Wood Processing Chains?
Check out our range of specialty timber chains to suit log decks, load decks, scraper conveyors, bark and debarker conveyors, log hauls, infeeds, outfeeds, cut off saws, kickers, log sort, timber sorting tables, drop sorters and jack ladders to name a few.
Did you know that our range of Chain Guides extends the service life of your chains?
Minimise expensive downtime.
Our extensive range of chain guides are manufactured in North America from UHMWPE polymer that offers an extremely low coefficient of friction, meaning your expensive chain is sliding easily across its surface, minimising chain wear.
Low-cost chain guide profiles such as our Chanex® brand enables smooth chain flow and protects the chain from metal on metal contact.
Why use Industrial Magnets?
To provide continuous protection for processing equipment by removing ferrous tramp materials, preventing costly equipment damage and product contamination. We can supply a range of industrial magnets such as: suspended plate magnets, magnetic head pulleys, magnetic plate separators and vibratory magnetic separators.