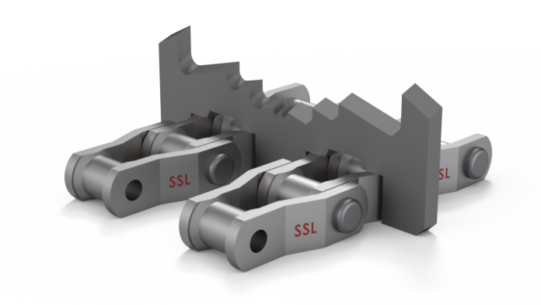 Timber Chains for NZ Wood Processors
Considered the experts in timber chains for sawmills, pulp and paper, OSB and dry board manufacturers.
Supply Services Limited stocks a huge range of quality timber and lumber conveyor chains from leading international manufacturers to suit the New Zealand wood processing industry.
Our range of specialty timber chains are to suit log decks, load decks, scraper conveyors, bark and debarker conveyors, log hauls, infeeds, outfeeds, cut off saws, kickers, log sort, timber sorting tables, drop sorters and jack ladders to name a few.
What timber chains do we stock for the NZ wood processing sector?
Our chain range is massive! Across New Zealand our branches located in Auckland, Mount Maunganui and Christchurch are stocked to the brim with a wide range of timber and lumber chains. We direct import a range of custom designed and manufactured chains for our larger customers to their exact application requirements.
With the amount of chain on the shelves we must be New Zealand's largest or one of the largest timber conveyor chain suppliers in the country. Our range of chains for the wood processing sector encompasses:
81X Trimmer Chains is 2.609″ pitch and used extensively on sawmill trim lines. 81X is a versatile, economical and light weight chain that can run at relatively high speeds.
It is also available as Heavy Duty 81XH and Double Heavy Duty 81XHH. All 3 chains use the same diameter pin. This chain is also available in 304SS and 316SS for dip tank and other corrosive environments.
Roof Top Chains is available in a variety of sizes and shapes. Chain caps are available made from steel, rubber and plastic or with rollers for the lowest friction coefficient. 81X-A, 81X-R, 81X-UP, WR78-UP, WR78-URT, WR78-4URT, WR78-RTN, WR124-URT. Pitch sizes from 1.63″ to 4.063″.
Bin Sorter Chains are used to conveyor the scanned boards to the appropriate graded bin. Typical chains with polyurethane J-hooks are ANSI 3939 (8" pitch) and 9" pitch, 15,000lb BS roller conveyor chain.
Drop sorters typically use ANSI C2100H chain.
Cast H&C Chains in either cranked link H class or straight sidebar C class. Common chains in this range are H78, H82, C55, C188, C131, C102B.
Rooftop series H78A, H78B, H130, H138, C55A, C55B, C55D. Pitch sizes from 1.630″ to 8.000″​.
Welded Steel Mill Chains are an economical and superior method for conveying most materials. They are most common in the lumber, pulp & paper, plywood, OSB and other board mills.
Other applications include bucket elevators and bulk material handling.
We stock a wide range of these chains in pitch sizes starting at ​2.609″ to 6.125″.
Common chain names are WR78, WH78, WR 82, WH82, WR111, WH111, WR124, WH124, WR132, WH132 and WR157 and WH157.
Welded Steel Drag Chains provide efficient and economical service when used in chip and waste conveyors. Various through and induction hardening options allow you to tailor the chain to the application.
Super Hog thick wall barrel and Whole Hog round barrel chains are available for heavy duty applications such as chip reclaims and debarker infeeds. Pitch sizes from 5″ to 8″. Common chains are WD102, WD110, WD120 and WD480.
Want more detail on our commonly used timber chains?
A recent blog post explains the difference between cast and welded steel timber chains, the benefits and features that steel timber chains provide over their cast counterparts.
Read the blog if you wanted to know what chain designations or numbers you normally see associated with timber chain mean. What are the differences between straight sidebar and crank-linked styled chains?
What are the differences between standard drag chains and the whole whole and super hog variants? Plus we look at common chain failures caused by corrosion, side bar wear and pin and barrel wear.
Plus a couple of tips to extend your timber chain and lumber chain service life.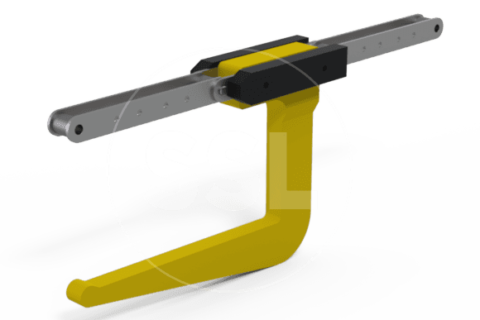 Download our timber chain and lumber chain brochure.
Who are some of our international suppliers?
CAN-AM CHAINS is a premier manufacturer of a wide variety of welded steel, specialty chains, bearings, sprockets and engineered plastics for the forest products and waste water treatment industries. With a reputation for performance and reliability, CAN-AM CHAINS include roller chains and welded chains, such as mill chains, drag chains, malleable chains and power transmission chains.
Whenever chain performance means productivity, CAN-AM CHAINS Delivers!
FB Chain provides the highest quality materials and manufacturing methods to suit the most arduous of conveyor chain applications  – from the transport of biomass fuels, to the recycling industry, paper & pulp, cement, steel-work, the wood industry and food processing.
HEKO Ketten is one of the leading manufacturers of hardened chains for bucket elevators and chain conveyors since decades – worldwide. HEKO is market leader for heat resistant kiln chains.
Connexus Industries Inc. Connexus Chains are engineered, designed and manufactured to ISO9001:2008 standards to meet the highest industry specifications. Material selection, manufacturing tolerances and controlled Heat Treating are the most important criteria for constructing chains designed for long service life in arduous applications.
Plus many more.
Supply Services Limited - Keeping New Zealand Industry Moving Since 1980.