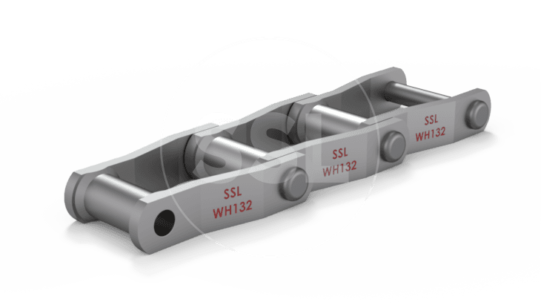 Welded Steel Mill & Drag Chains
Welded steel chain for materials handling provides a vital link in keeping New Zealand industry moving.
Since 1980, we have represented industry leading brands such as CAN-AM Chains from Canada whose chains are specific to the timber, sawmill, OSB and pulp and paper sectors.
For welded steel chains, we offer the full range of specifications, including WH157 welded steel chain, WH132 welded steel chain, WH78 welded steel chain, WD110 welded steel drag chain, WD120 welded steel drag chain and WD480 welded steel drag chain.
Welded Steel Chains vs. Cast Chains
Welded steel chain such as mill chain and drag chain are a replacement for most cast chain applications. Welded steel chains are economical to produce, have a higher ultimate tensile strength and if you require attachments, simply weld them on.
There are a range of benefits and features welded steel chains provide.
Benefits
Greater application usage
Use in high speed conveyors
Heavy duty usage
Long service life
Increased heat treatment options
Features
High working loads
Increased fatigue strength
Increased impact strength
Increased wear life
Optimum to meet applications requirements
Welded steel chain is not precision chain. They have an average pitch. For example, WH106 has an average pitch of 6.00"
Welded Steel Chain Designations
To serve the wide industry who use our range of welded steel chains, we have adopted the following standardised chain designations.
WR – Offset style with heat treated rivets
WRXHD – Offset style Extra Heavy Duty with heat treated rivets
WH– Offset style with all parts heat treated
WHXHD – Offset style with all parts heat treated Extra Heavy Duty
IBR – add IBR for fully heat treated parts, plus induction hardened barrels and rivets
Mill Chain
Mill chain provides an economical and superior method for conveying most materials. Commonly used in mills such as lumber, pulp and paper, plywood, OSB and other wood processing sectors. Our chains are made from quality North American steels and are designed and manufactured for high performance & reliability.
View our range of mill chains here
Straight Side Bar
These styles provide easy access for welding attachments to the side bars of the chain, especially in the field.
Chain numbers in this range are: WRC78, WRC82, WRC131, WRC124, WRC111, WRC110, WRC132 and WRC150 and WRC157.
Heat treated variants are: WHC78, WHC82, WHC131, WHC124, WHC111, WHC110, WHC132 and WHC150 and WHC157.
Pitch sizes from 2.609″ to 6.050″
Offset/Crank Link Side Bar
Our most purchased chains are the crank link styles, often with custom heat treatments and induction hardened parts. The success of these chains in the paper and pulp industry notably on log decks with high impact and abrasion is testament to this high performance product.
Chain numbers in this range are: WR78, WR78-4, WR82, WR124, WR111, WR106, WR132, WR150, WR1567, WR159 and WR200.
Heat treated variants are: WH78, WH78-4, WH82, WH124, WH111, WH106, WH132, WH150, WH157, WH159 and WH200.
Pitch sizes from 2.609″ to 6.125″
Our range of straight or offset conveyor chains are also available in heavy-duty series. Additional heat treatments and induction hardening options can be specified.
Extra Heavy-Duty (XHD) Welded Steel Mill Chain
These XHD series chains offer higher ultimate strength, superior impact resistance and longer service life than standard chains. This CAN-AM range provides greater impact capabilities, higher ultimate strength and larger wearing surfaces.
Common welded steel chain numbers in this range are: WR78XHD, WR82XHD, WR124XHD, WR106XHD and WR132XHD.
Heat treated variants are: WH78XHD, WH82XHD, WH124XHD, WH106XHD and WH132XHD.
Pitch sizes from 2.636″ to 6.050″
We offer XHD series chains in straight sidebar styles also such as WRC82XHD, WRC124XHD, WRC110XHD and WRC132XHD.
Drag Chain
Drag chain provides efficient and economical service when used in chip and sawdust conveyors and similar applications. Our welded steel drag conveyor chains​ are available in a range of pitch sizes & specifications to suit your conveyor requirements.
Designed to withstand high breaking loads & abrasive environments. Fully customise your drag chain with through & induction hardening, larger rivets, thicker & higher sidebars.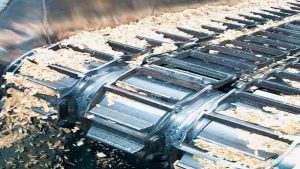 View our range of drag chains here
Standard – Narrow End Forward
Original formed barrel design for complete rivet to barrel contact for maximum rivet wear, higher impact strength, ease of attachment welding & optional heat treating &/or induction hardening. Articulation is between chain barrel and sprocket tooth.
Chain numbers in this range are: WD102, WD104, WD110, WD112, WD116, WD118, WD120, WD122 and WD480. For heat treated rivets add an 'R". i.e. WDR110.
Pitch sizes from 5.000″ to 6.000″
XHD Heavy Duty
When the going gets tough, you need XHD! With increased pitch sizes, larger rivets & thicker side plates, XHD drag chain nearly doubles the ultimate strength &​ working loads when compared to standard drag chains.
Chain numbers in this range are: WD120XHD, WD118XHD, WD122XHD and WD480XHD.
Pitch sizes from 6.000″ to 8.000″
Reverse Barrel – Wide End Forward
Short centered conveyors? We recommend having your CAN-AM drag chain manufactured with reverse barrels, so the chain operates wide end forward. This dramatically reduces friction between the sprocket tooth & chain barrel increasing the service life of both the chain and sprocket. Articulation is between pin & barrel.
Super Hog (SH)
Featuring a formed, heavy wall seamless tube barrel, this rugged barrel supports a through & induction hardened 1″ rivet. Eliminate crushed/peeled barrels & reduce wear due to racking, increase conveyor speeds, move heavier loads with less downtime. Also available with heat treated sidebars & barrels.
Chain numbers in this range are: WDRS118-SH, WDRS120-SH, WDRS122-SH and WDRS480-SH.
In XHD series: WDRS118-XHDSH, WDRS120-XHDSH, WDRS122-XHDSH and WDRS480-XHDSH.
Pitch sizes from 6.000″ to 8.000″
Whole Hog (WH)
Designed for brutal applications & two-way operations where only a tough chain will survive, Whole Hog features the same rugged characteristics as Super Hog drag chain but with the addition of an extra heavy duty round barrel, through hardened then induction hardened rivets & through hardened side bars.
Chain numbers in this range are: WDRS118-WH, WDRS120-WH, WDRS122-WH and WDRS480-WH.
In XHD series: WDRS118-XHDWH, WDRS120-XHDWH, WDRS122-XHDWH and WDRS480-XHDWH.
Pitch size 8.000″
Drag Chain Attachments
Standard industry attachments are available, but we excel in complicated attachment designs that require site visits, computer aided design & drawing sign-off. This is backed up by our professional fabrication, welding & fitment services. Due to our industry experience & knowledge, our custom-made attachments can substantially increase the chain service life.
UHMWPE flight sleeves are a popular mill chain attachment we sell, along with S1, F4, H1, H2, RF2, RF12 and A22.
Please look at our range of mill and drag conveyor chain attachments.
Our most popular drag chain attachment are the wing attachments as shown below. We also sell and fit C-1/2″, C1, C3 and C4 style attachments.
Some Examples of Chain Wear
Side Bar Wear
Check the wear strip for galling. Use our HARD wear plate Armour-X.
If you cannot remove grit and dirt, then induction hardened parts will increase service life.
UHMWPE or Nylon wear strips can help reduce wear and friction when used in non-abrasive environments.
Pin to Barrel Wear
Excessive speed or load are the two most common causes.
Induction hardened parts will help increase service life.
Fatigue Failure
If a part is loaded once to a stress near the yield stress, it will not break. However, if it is loaded repeatedly to this level, it will eventually break. Avoiding fatigue is an important goal in the design of the conveyors. The more cycles a part will undergo, the lower the allowable stress it must be assigned in order to avoid failure by fatigue. A factor of one sixth of the UTS is common in determining the allowable working load.
Corrosion
Corrosion is defined as the damage or deterioration  of a material due to a reaction or interaction with the environment. Corrosion is often classified as wet or dry. Wet Corrosion occurs when a liquid phase is present and dry corrosion occurs in the absence of a liquid phase or above the dew point of the environment.
General classifications:
Uniform or General Corrosion
Galvanic Corrosion
Crevice Corrosion
Intergranular Corrosion
Erosion Corrosion
Stress Corrosion
Hydrogen Damage
Some Tips to Increase Conveyor Chain Life
LUBRICATION
A cost effective way to increase chain life.  The best location is on the slack side of the chain so the lubrication can work down inside the barrel between the barrel ID and the rivet on the loaded side.
SPROCKETS
Sprocket diameter in relation to wear is a big factor.  Mill chain sprockets – try to use a sprocket with a pitch diameter four times the chain pitch.
CORRECT WEAR STRIP
Don't put new welded steel chain on old wear strip. It will shorten the chains life. Check out our Armour-X wear plate.
PROPER CHAIN TENSION
Make sure it is correct! Check the manuals for the chain you purchased.
Full Range of Chains for Wood and Timber Processing
Have a look at our Wood processing conveyor chain for sawmills, pulp and paper, OSB and dry board manufacturers. A full range of attachments, sprockets and accessories are available.
We Can Make Your Sprockets. Do You Need Rivets?
Whatever your requirements, we either have it on the shelf ready to go or can manufacture and machine it to your exact requirements.
Sprockets to suit welded steel mill chain are available. Also welded steel drag chain sprockets.
We also stock, manufacture or import a wide variety of sprockets.
Our custom made split sprockets will save you time and installation costs. Read about them here.
A wide range of  connector links and chain rivets available.
Does Your Site Use Conveyor Chains?
Did you know Supply Services Limited is the largest and most trusted conveyor chain supplier to all sectors of New Zealand industry? Since 1980 we have been importing conveyor chains from international manufacturers who are recognized as leaders in their field.
Read this recent blog post where we describe in-detail our wide range of conveyor chains.