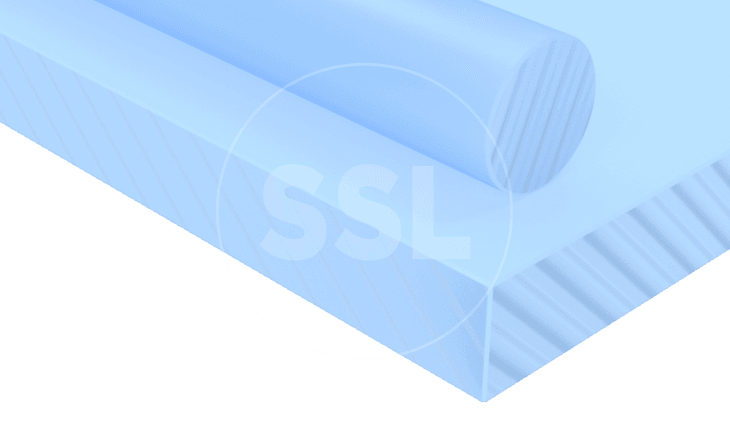 Acetal PE Blend (POM-C + 10PE)
Acetal PE Blend is an Acetal POM-C material modified with the addition of a solid lubricant being 10% polyethylene (PE). This alters the properties of the base Acetal POM-C which improves sliding and frictional properties, in-turn allowing for enhanced wear characteristics. The solid lubricant can slightly reduce strength and hardness of the base Acetal POM-C material, making application selection important.
Improved friction & abrasion resistant properties
High strength, rigidity and toughness
Solid lubricant for sliding properties
Cut to size
Yes, however some sizes have minimum order quantity
Tribological Advantages
Does your application require the amazing technical properties of Acetal POM-C but needs a lower coefficient of friction? Are your current Acetal parts wearing out quicker than expected due to increased sliding requirements? Then our Acetal Polyethylene Blend is the material that will allow your components to glide with its exceptional sliding properties.
Food Contact Approved
Just like our Acetal range, our selection of Acetal Polyethylene Blend materials are FDA approved for applications that require approval for direct food contact. Also being blue in colour assists with optical detection of contaminants in food processing lines.
Applications
Components requiring high strength and stiffness with dimensional stability and above all – reduced friction. Examples such as sliding bearings or plates, components that require food contact approved materials such as wear strips, gears or rollers. Widely used where mating with stainless steel but require reduced friction.
Acetal PE Blend Range
Product Type
Industry Usage
Available Products & Notes
Acetal PE Blend
Mechanical Engineering, Electronics, Automotive, Food Manufacturing & Processing technologies
Rod & Sheet
Light Blue
FDA Compliant
---
Whatever you're
engineering, we can help
Our technical solutions specialists are only a phone call away