What is Polypropylene Plastic?
Polypropylene plastic is a polyolefin thermoplastic polymer that is commonly referred to as PP. It is manufactured by the polymerisation of propylene gas.  Polymerisation is the process of joining thousands of monomers together to form a polymer.
Polypropylene plastic is a semi-crystalline material. These plastic materials have highly ordered molecule structures, making it a good choice when looking for an engineering plastic to handle structural loads with exceptional chemical resistance.
Polypropylene plastic offers a good balance of thermal, chemical and electrical properties with moderate strength.
Different types of Polypropylene are available. Either a copolymer or homopolymer. Polypropylene copolymer offers better impact resistance, while Polypropylene homopolymer is stiffer and has higher operating temperatures.
A cost-effective material suitable to a wide range of applications that is stain and moisture resistant, tough, durable and lightweight.
Polypropylene is approved for direct food contact, but as with any engineering plastic, it is best to confirm with your supplier that it meets FDA regulations at time of order.
Looking for Polypropylene plastic materials in New Zealand?
Supply Services with branches in Auckland, Mount Maunganui and Christchurch, offers a wide range of engineering plastics materials including polypropylene plastic rod, tube and sheet suitable for industrial applications.
The most common grade of polypropylene is homopolymer (PP-H).
We offer cut to size plastic services, and our machinists are experts in CNC machining polypropylene plastics into your finished components.
Contact our team of technical solutions specialists today. Nationwide toll free 0800 102 112.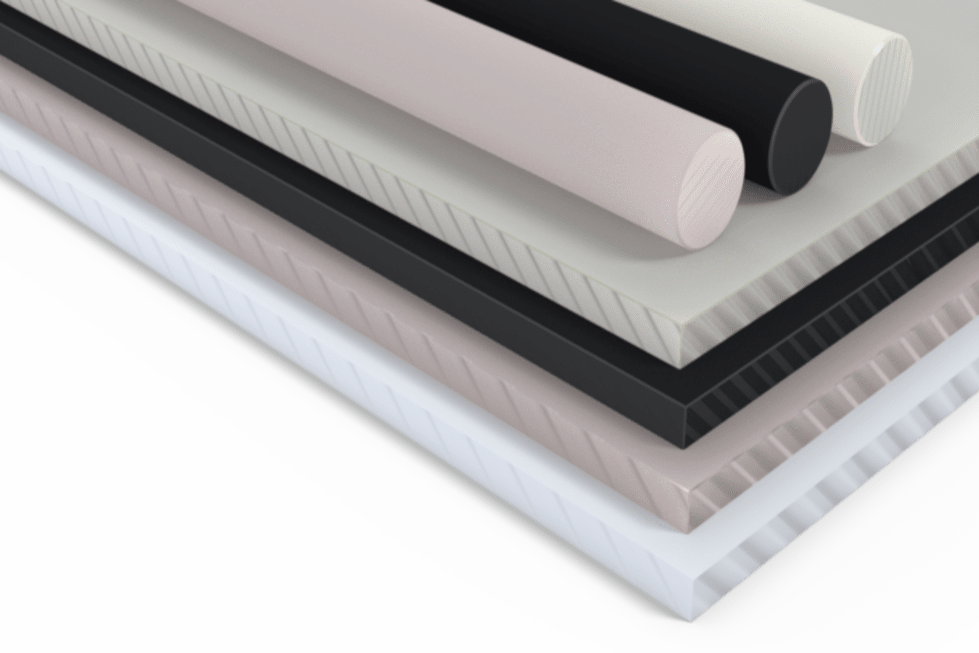 What sizes and colours of PP are we able to supply?
We stock a large range in New Zealand on the shelf, but we have access to a wide variety of rod dimensions and sheet thicknesses. We have regular stock shipments arriving and if you require a size not in stock urgently we can airfreight* your products (size and weight dependent). Note that some grades have minimum order quantities. *Airfreight costs are additional.
Availability:
Rod 20mm to 400mm OD
Tube 15mm ID to 170mm OD
Sheet 1mm to 400mm thick
Colours:
Natural is the most common. We can also supply in black, white and beige.
What is the long term service temperature of Polypropylene plastic?
The long-term service temperature of Polypropylene homopolymer is -5°C to +100°C, and for Polypropylene copolymer is +80°C.
The melting point of PP-H is approx. +164°C.
The long-term service temperature is defined as the maximum temperature at which a plastic has lost no more than 50% of its initial properties after 20,000 hours of storage in hot air (in accordance with IEC 216).
For most plastics their mechanical properties will generally decrease as temperature increases.
Careful design considerations must be given to plastics used at elevated temperatures due to their changing properties and viscoelastic nature.
What are the features of this material?
Polypropylene offers a range of features that make this low-cost material a popular choice for many applications, especially corrosive ones.
Excellent resistance to chemicals and solvents
Rigidity and surface hardness
Strength
Easily weldable
Very low moisture absorption
Good insulating properties
Stress crack resistant
Lightweight
FDA food contact approved (as always – confirm at time of purchase)
What applications can Polypropylene rod, tube or sheet be used for?
Nearly an endless list only constrained by your imagination.
The common industrial applications we see this material used for are:
Tanks, ducts and hoods
Tank fittings
Chemical tanks
Fan shrouds
Fume hoods
Wash booths
Clicker boards
Machine components
Pump impellers and casings
Laboratory equipment
Pump components in chemical environments
Scrub stations
Chemical equipment parts
Scrubbers
Spray nozzles
Gaskets
Get in contact
Contact Supply Services today to discuss your Polypropylene application! Toll free 0800 102 112.
Our technical solutions specialists are waiting, ready to assist you with material selection options.
We offer a full range of engineering services nationwide including CAD design for parts and CNC machining to bring them to life.
We assist and support some of New Zealand's largest producers and manufacturers, touching every industry in the country.
Have a read about some of our other engineering plastic materials that we supply…