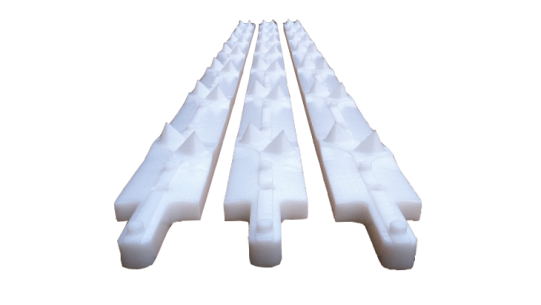 UHMWPE Supplier of Rod, Tube, Sheet, Wear Strip Profiles
Supply Services, one of the leading UHMWPE (Ultra High Molecular Weight Polyethylene) suppliers in New Zealand carries a large variety of polyethylene stock shapes such as rod, tube, sheet, wear strip and profile formats.
UHMWPE is often described as the world's toughest polymer. UHMWPE is characterised by toughness, chemical resistance, its low coefficient of friction, near-zero moisture absorption and ease of machining.
Relative to other solid thermoplastics it is rather light weight and will float in water.
Above all, UHMWPE is self-lubricating and offers the highest impact and abrasion resistance of any thermoplastic.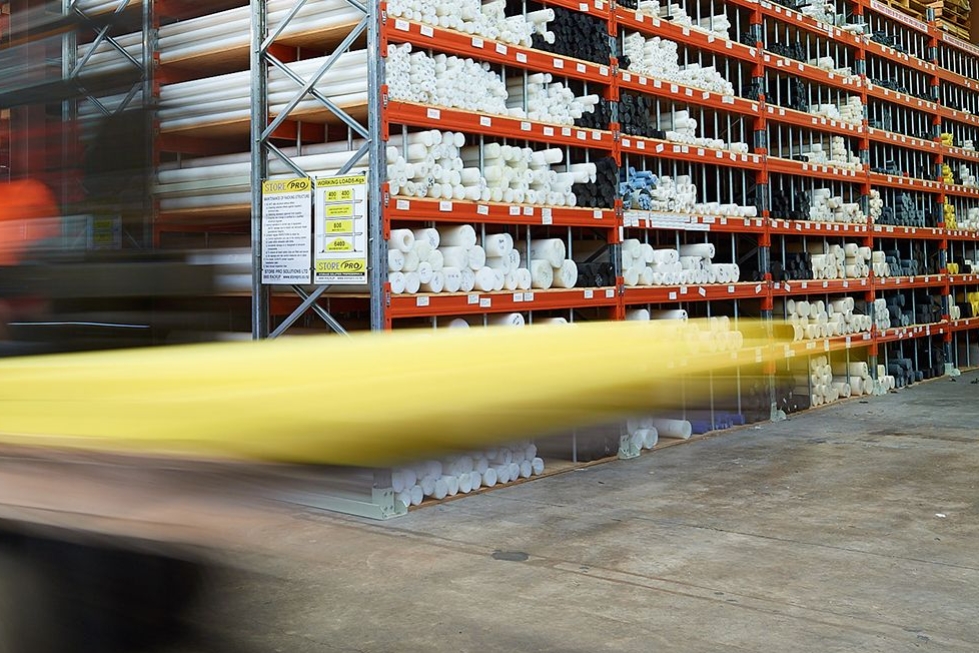 Need UHMWPE today or tomorrow? Call now!
Nationwide toll free on 0800 102 112. Same day or next day delivery or collect from one of our 3 branches. Auckland | Mount Maunganui | Christchurch.
Why use UHMWPE?
Because it's one tough material that can take a real beating. Our sales team can confirm that UHMWPE is the correct material for your job when you call.
Being a cost-effective material it can produce high quality parts at a low cost. Some say it outwears steel 6:1, with the top end grades 10:1 (application dependent).
What sizes of UHMWPE do we offer?
We stock a vast range of sizes. Not all sizes are listed below, but we have access to numerous international manufactures who will extrude or cast polyethylene to special sizes.
Our UHMWPE rod is available in sizes from 8mm to 250mm diameter in quite small size increments making for a huge selection. Colours available are natural, black, blue and green.
Our UHMWPE Sheet is available in sheet thicknesses from 1.5mm to 200mm thick, again in small size increments.  Colours available are natural, black, blue, grey and orange.
Various sizes of UHMWPE Tube and hundreds of UHMWPE profiles are available. Wear Strips can be cut to size on-demand with full machining services available to customise your materials.
Custom colours can be manufactured on request, subject to minimum order requirements.
Do you know what grade of UHMWPE you need?
There is a large range of UHMWPE materials available on the market. We offer a wide variety of these and each offers their own special characteristics.
Different grades are different price points, some are food grade certified, some are not. We can supply UHMWPE grades such as:
Premium
Polyslick™ XL is the superlative abrasion resistant grade of Ultra High Molecular Weight Polyethylene UHMWPE. XL grade is further enhanced with either silicone (XLS) for release and slip, or with glass (GXL) for unparalleled wear resistance. POLYSLICK™ XL grades are UV stabilised and have reduced thermal expansion.
Natural
Ultra High Molecular Weight Polyethylene UHMWPE is often referred to as the world's toughest polymer. UHMWPE has high abrasion resistance, as well as excellent impact strength. It is chemically resistant and has a low coefficient of friction which makes it highly effective in a variety of applications.
Reprocessed
Reprocessed grade UHMWPE utilises finely ground post production material to produce an economical substitute to using 100% virgin resin. Technical properties will be reduced from virgin material although hardness may be slightly increased. Generally the colour is black but it may show other coloured particles.
Plus More Grades!
Anti-Static. UV Resistant. Metal Detectable. Conductive. Ceramic Filled. Glass Filled. High Temperature. Oil Filled. Moly Filled. Cross Linked. Glass Filled and Cross Linked.
Click to view our comprehensive range of engineering plastics.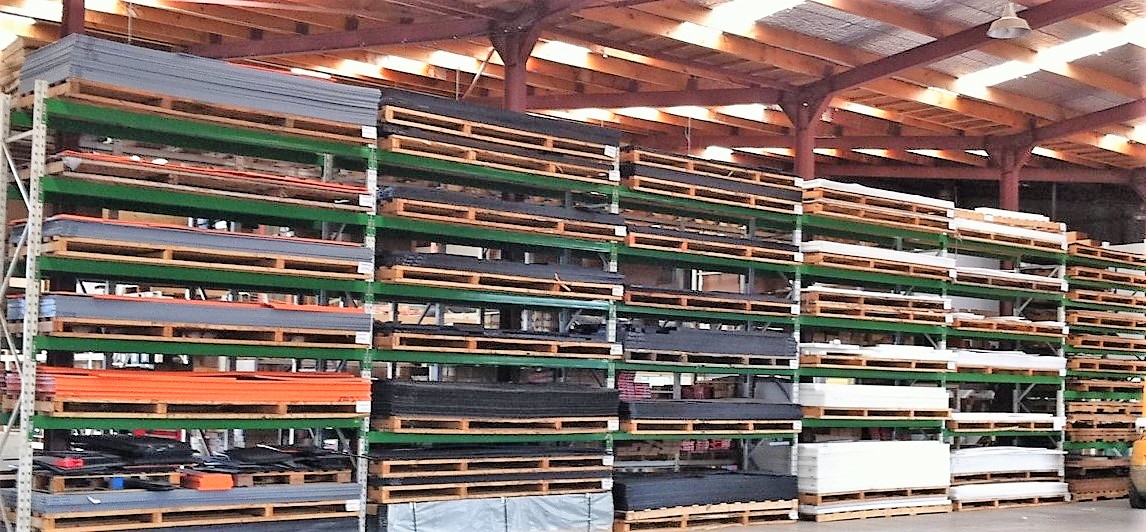 What are the main benefits and features of UHMW Polyethylene?
✅ Abrasion resistant – can outlast steel many times over in the right application
✅ Impact and stress crack resistant
✅ Low coefficient of friction – reduces electricity consumption
✅ No notch sensitivity – won't easily crack from corners
✅ Chemically resistant to a wide range of compounds
✅ An insulator – will help reduce noise created from impact
✅ Won't absorb moisture – won't rot or smell
✅ High Impact strength
✅ Non toxic/Non hazardous
✅ Available in blue FDA compliant grades
Check out what Wikipedia has to say.
Looking for an advanced grade of UHMWPE?
Core properties can be enhanced with the addition of fillers to the base material during production.
Some enhancements that can be achieved:
Glass Spheres
Further improves abrasion resistance
Silicone Oil
Further reduces the coefficient of friction, the stick/slip effect and increases surface release properties which reduces caking
Recycled Material
Re-uses waste material created in the manufacturing process. Commonly called Repro. This reduces the cost and raises the hardness.
We stock a wide range of enhanced UHMWPE materials, not all are listed.
Does your supplier offer these grades?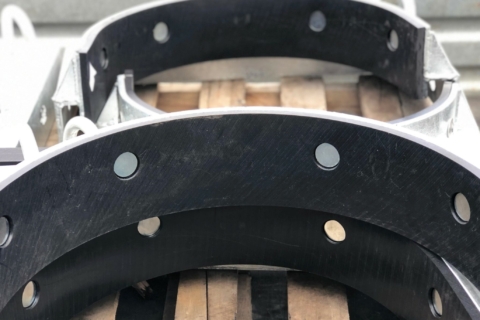 What is UHMWPE used for?
✅  Chute Liners
✅  Bushes
✅ Conveyor Wear Strips
✅ Chain Tracks
✅ Guide Rails
✅ Wharf Dock Fenders
✅ Shaft Sleeves
✅ Bearings
✅ Chain Slider Blocks
✅ Roller Lugs
✅ Hopper Liners
✅ Attachments on chain
✅ Star Wheels
✅ Mixing Paddles and Scrapers
✅ Timing Screws
✅ Marine Components
✅ Truck Deck Liners
✅ Split & Idler Sprockets
✅ Split Sprockets
✅ Custom Machined Parts
✅ Noise Reduction Parts
✅ FDA Compliant Parts
✅ Applications requiring high abrasion resistance
✅ This list is endless!
Is UHMWPE food grade approved?
Yes, UHMWPE is FDA food grade compliant for food contact (grade dependent). Supply Services can provide food conformance certification from our international suppliers.
This must be requested at time of order. Not all suppliers can offer certification of their materials.
If certification is important for your finished machined parts, please make sure you let our staff know. We cannot issue certification once materials have left our warehouse or control.
Is blue UHMWPE food compliant?
Well, yes it is.
It is one of our many blue materials available to make your production line parts optically detectable.
Make your production line parts with our food compliant blue UHMWPE that is FDA and EU10/2011 certified.
Protect your companies reputation.
What is the service temperature range of UHMWPE?
Generally, standard grades of UHMWPE can safely operate at long-term service temperatures ranging from -260°C to 90°C. Additives and fillers can be added to change these properties. UHMWPE has a crystalline melting point of 131°C.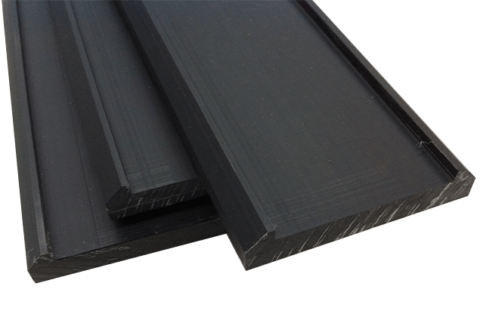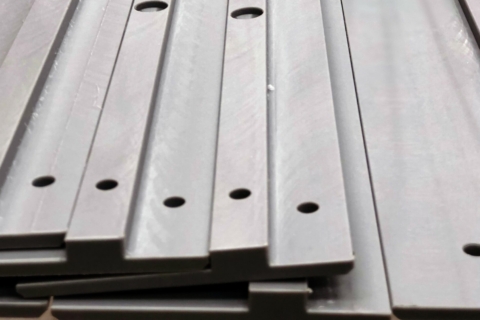 We can also turn our UHMWPE stock into your finished machined parts
All three of our nationwide branches offer CAD design, manual and CNC machining services; all are fully stocked with engineering plastics, chains, sprockets and associated parts.
No matter where you are in the country, we have the people and the know-how to help you out. Our services include:
✅ Computer Aided Design (CAD)
✅ CNC turning (2 & 4 Axis)
✅ CNC milling (3 & 4 Axis)
✅ CNC routering (3 & 5 Axis)
✅ Conventional turning & milling
✅ CNC billet cutting
✅ Production keying
✅ Thicknessing
✅ Custom profiles
✅ Cut to size rod, tube & sheet
✅ Plastic fabrication
✅ Plastic & metal welding
✅ Magnetic particle inspection NDT
✅ Portable CMM inspection system (probe & laser)
Our machining team are experts in manual and CNC machining engineering plastics such as UHMWPE.
Download our Engineering Plastics brochure.