Roller Chain Supplier – British and American Standard
As New Zealand's leading roller chain supplier, we offer a wide selection of British Standard (BS) and American Standard (ASA/ANSI) roller chains from an international array of premium chain manufacturers.
Our extensive line-up of roller chains suit specific industries and a multitude of applications. From agriculture to sawmills, clean-room to saltwater environments, we have the roller chain to keep your business moving.
Simplex, duplex, triplex, plus sprockets and accessories. Off the shelf or made to order.
Looking for roller chain right now? Dial 0800 102 112. Branch pick ups are available or delivery via courier service. Credit card payments accepted over the phone.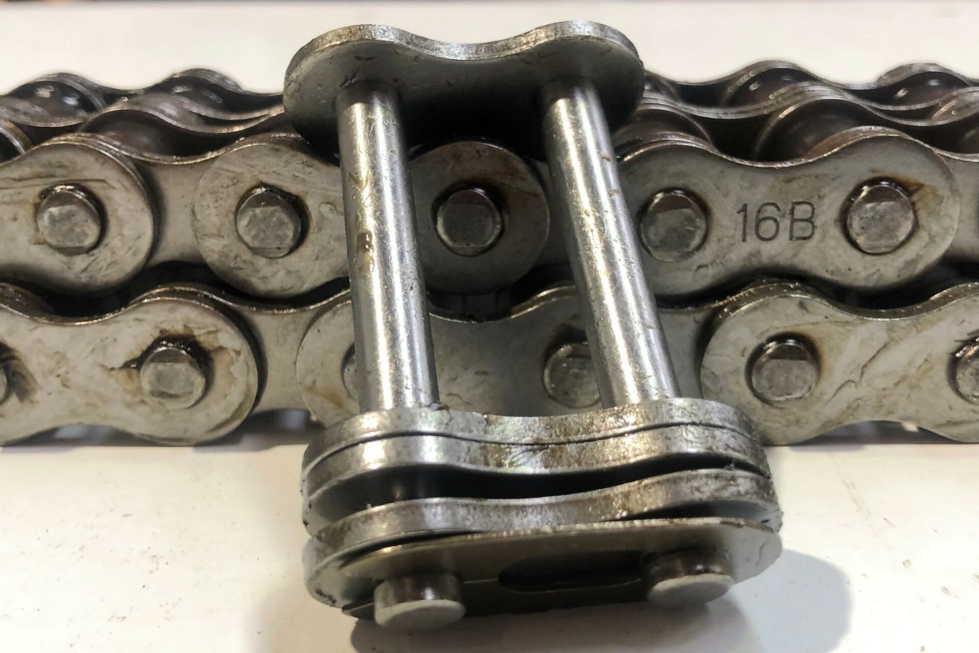 NZ's Leading Roller Chain Supplier
Since 1980, our transmission chains have helped to keep your industry moving.
Our chains are supplied by (but not limited to) leading international chain manufacturers such as:
CAN-AM Chains, Canada, who have been  making chain since 1966. CAN-AM roller chains are made to very high standards, using steels especially selected for fatigue strength and exceptional long life
CHJC Chains, China, who have been making chain since 1953. CHJC part of the Hengjiu Group is China's largest roller chain manufacturer with subsidiaries in Hungary and Germany.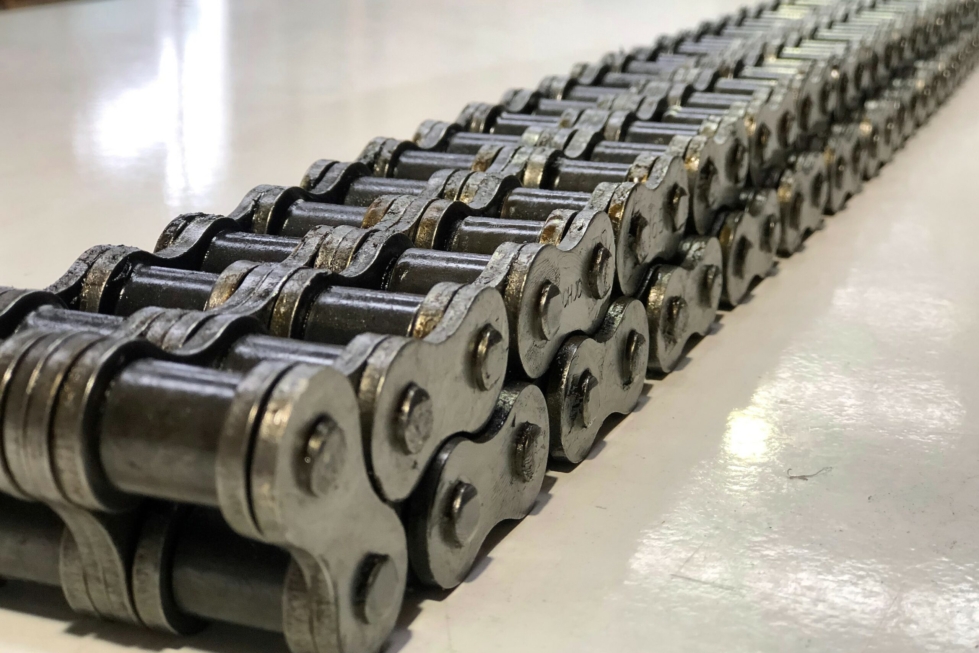 What Types Of Transmission Roller Chains Do We Supply?
Our range encompasses the simplex, duplex and triplex strand widths. We can also supply quadruplex, quintuplex, sextuplex, octuplex and decuplex chain on request.
Our range of roller chains include:
We stock a vast range of transmission chain across our three New Zealand branches that are located in Auckland, Mount Maunganui and Christchurch.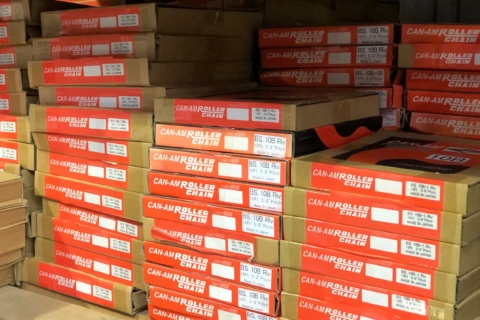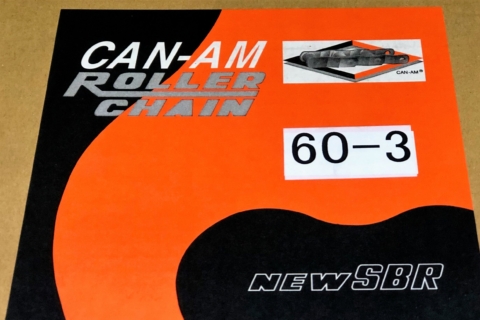 Why Purchase Roller Chains from Supply Services?
Make sure when you're comparing two differing brands that you are comparing apples to apples. It's the wild west out there.
Don't be tempted to purchase the cheapest chain only to have it fail at a critical time in your production cycle.
Our chains offer the following features as standard. We don't charge you extra for this bump in quality.
Quality and performance are built-in from the factory!
✅ Solid Rollers. This allows for smooth rotation on the bushing, minimising the impact load as the chain engages the sprocket tooth.
✅ Heat Treatment. This ensures consistent quality in all chain components resulting in optimum toughness and wear resistance.
✅ Pre-Lubricated. Hot dipped in special lubricant ensuring all load bearing surfaces are protected increasing wear life of the chain.
✅ Shot Peened Parts. ​All chain rollers and link plates are shot-peened for greater fatigue strength.
✅ Waited Link Plates. ​Reduces bending stress of the link plate increasing fatigue strength.
✅ Factory Preloading. Preloaded during assembly, minimising initial elongation of the chain.
We are your one stop shop!
A large stock of roller chain accessories are available to suit ANSI & BS simplex, duplex & triplex chains, with larger sizes on request. Connecting links in spring or cotter pin type, complete roller links, single or two-pitch offset links.
Available in carbon steel, zinc plated or self-lubricating variants.
We also have a large stock of industry standard & special type roller chain attachments. Attachments to suit ANSI/BS & Double Pitch chains.
As the range is wide, please contact us to discuss your application requirements. Non-standard attachments can be manufactured in-house to suit.
A massive range of transmission roller chain sprockets ready for delivery or we can further customise to your exact requirements in one of our three nationwide machine shops. Our sprockets can be supplied with teeth that are flame heat treated, case hardened, induction hardened or not hardened at all.
The surface finish can be plain, painted, zinc plated or black passivated.
What Are Our Most Popular Types?
As the largest chain supplier in New Zealand we can easily tell you what styles are NZ's most popular roller chains. Across our entire range of roller chains the top two sellers are:
#1
British Standard (BS) Roller Chain: our most popular sizes are the 3/4″ pitch 12B1 simplex and the 1″ pitch 16B1 simplex chains. We also stock and sell a large quantity of 1/4″ pitch 04B, 3/8″ pitch 06B, 1/2″ pitch 08B and 1 1/2″ pitch 24B.
Our British Standard Roller Chains are standardised in accordance to ISO 606 "B", fully interchangeable with BS 228 and DIN 8187 chains and are a direct replacement for any standard BS roller chain.
#2
American Standard (ASA ANSI) Roller Chain: in this range our most popular sizes are the  1/2″ pitch ASA40, the 1″ pitch ASA80 and the 1 1/4″ pitch ASA100. The ASA chain range is large, and we stock from 1/4″ pitch ASA25 to 3″ pitch ASA 240.
Our American Standard ASA Roller Chains are manufactured to exceed ANSI B29.1 standards​, fully interchangeable with chains of like standards and our CAN-AM SBR chain is designed to last longer than other manufacturers chain.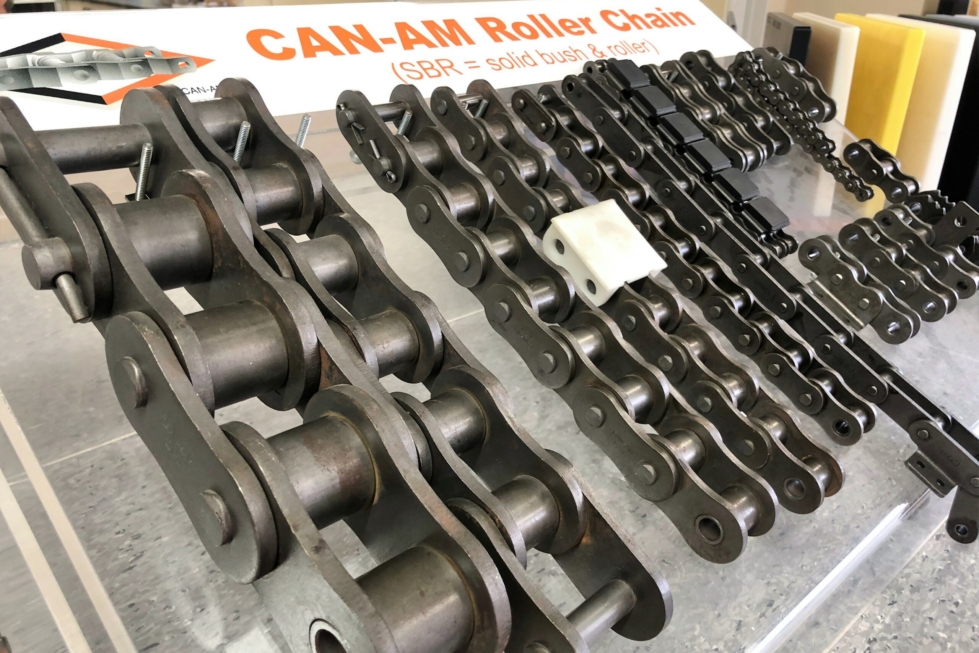 So, go on, pick up the phone and dial 0800 102 112 to speak to one of our awesome team who are waiting to take your call.
Come experience some old school customer service today from New Zealand's leading roller chain supplier!
Service is in our name and we are proud of the service that we provide.
Download our Chains and Sprocket Brochure
Does Your Site Use Conveyor Chains?
Did you know Supply Services Limited is the largest and most trusted conveyor chain supplier to all sectors of New Zealand industry? Since 1980 we have been importing conveyor chains from international manufacturers who are recognized as leaders in their field.
Read this recent blog post where we describe in-detail our wide range of conveyor chains.
What About Split Sprockets? These Will Save You Time
Split sprockets are the ideal sprocket especially in areas of limited working space. They are simple and easy to assemble in hard to get areas.
Our range of split sprockets for conveyor and wood processing chains allow for the sprocket to be assembled without having to dismount the shaft assembly.
Read more about how these sprockets can reduce downtime and costs associated with sprocket installation.